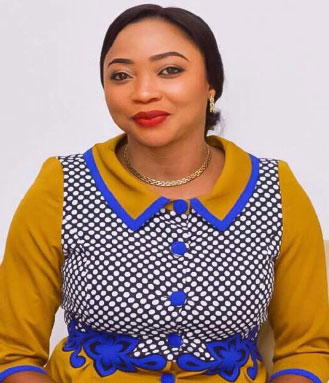 Dr. 'Kemi Ailoje
By Sola Ogundipe
Any one that has no idea what the job of a reproductive endocrinologist is would become fairly well educated after a chat with Dr. 'Kemi Ailoje. An encounter with her would be even more delightful if it borders on reproductive health, particularly of women.
An experienced Reproductive Endocrinologist &Fertility/ IVF Specialist, Ailoje's passion for women and children's health is palpable.
"My speciality is Reproductive Medicine, Clinical Endocrinology, Endocrine Pharmacology, and Embryology. As a reproductive endocrinologist, my job is that of a physician who talks about the hormones of women and can help them achieve pregnancy," she quickly informs.
Ailoje has always been very passionate about women and children, even from a young age she was fascinated by women's reproductive health challenges. One day while growing up, in the company of her parents, she visited the zoo at the University College Hospital, UCH, Ibadan, in Oyo State.
While there, her parents were awed with the sheer vivacity of several sparkling, beautiful young female doctors they met while there and could not help expressing their wish to have a daughter that would be like those caring and exciting healthcare providers.
Ailoje had probably watched and listened as her folks expressed their heartfelt desire, and decades later that wish has been admirably fulfilled.
She recalled that while growing up as an adolescent, people were fond of saying was intelligent and caring and should become a medical doctor, or commending her assertiveness and truthfulness and predicting that she would most likely become a barrister. She opted for the former and is today an accomplished reproductive endocrinologist and fertility specialist with bias for IVF.
Ailoje is the MD/CEO Lifelink Fertility Clinics, Lagos, an ultramodern, state-of-the-art fertility treatment centre with strong collaboration with experts locally and abroad while offering emotional services for women.
"It is a fertility clinic run by women for women, and a women and children's hospital," she noted pointedly. It's about taking care of the health of women by women. We offer chances of getting pregnant within the shortest possible period, paying attention to details and we pride ourselves in giving individualized treatments to women."
She said Lifelink fertility Centre has been in operation about a year. "We are bringing in individualised treatment using state of the art equipment. It is high tech, and everything that has to do with IVF and ART is there. A woman that comes in with any form of reproductive health issues will be seen by the reproductive endocrinologists, We ask what do you need and start pointing to those procedures that are available.
She argues that infertility is a global challenge and a lot of women require specialist treatment. "It is a different thing if you have a fibroid and can go to a General Hospital or clinic. Infertility is a hormone-based treatment provided by a specialist.
"Because we know going through infertility can be very daunting and challenging. Our team of specialists, doctors and reproductive endocrinologists are up to the task.
"Of course we attend to men as well. You cannot treat a woman outside of men. We generally see women and children, but men are also attended to. There are males that need much more than reproductive endocrinologists and they need to be seen by urologists.
She observed that a man may have blockage to the ducts or injuries to the testes, or there may be sperm issues and would need to be properly treated. If they need specialisation they would see the specialists.
"We are making it fully individualized, how people can fit into their system how they want it.
The difference is that we are not pooling patients to buy equipment. We have the equipment to meet the services of people that are in need of it."
Leading the team of reproductive endocrinologists, Ailoje is bringing her decades of experience as a fertility and IVF specialist, practicing physician, and UN trained counsellor to bear. Part of her training was with the pioneer reproductive endocrinologist in Nigeria, Prof Dapo Ashiru.
Widely travelled, with special interest is obstetrics with focus on reproductive endocrinology and fertility, in 1998 she set up Divine Ambassadors Foundation to address women and children's issues, and 20 years down the line, the voluntary and corporate social responsibility work continues to ginger women to demand to be in charge of their health.
"I had series of trainings with the UN on reproductive health, sexuality education, negotiation skills, and as a woman, I should be able to tell you the number of babies that I want, I should have access to medication and health, access to life and access to what I want. I should be able to make decisions regarding my health.
"My womb is inside of me so no one can decide for me the number of babies that would come out of it. It has to be by negotiation and compromise.
Ailoje founded DIVAF, an NGO involved in helping the indigent have access to health and education, as well as protecting the rights of women and children especially the girl-child.
Her project, Kemi Ailoje Foundation For Women and Children's Health Education, Empowerment and Rights (KAFOWCHER INITIATIVE), is dedicated to advocacy, education and empowerment of women, youth and children especially the less privileged and disadvantaged. Lifelink Fertility clinics, through DIVAF is taking IVF to the doorstep of the indigent.
"A lot of people say is it because I am female, I'm passionate about women's health. Well, it could be a factor. I don't want to be remembered just as a female doctor because when I'm sick I just don't want to be attended to by a female doctor or male, I want to be remembered a s a doctor who solves the need of women being a female herself and ensuring that females get it right.
" It is a function of the fact that I believe in my feminism and it is coming into play for me. I always tell women that being a woman is a mother, teacher, lover, educationist, and when you have a baby it is Further about Lifelink Fertility Centre, Ailoje said it is about setting up a trend for young people so you they know their fertility status.
"That is the difference here. We are not going to wait until you are 43 and then you get a husband or even when you do not have a husband and you're trying to get a baby. We are bringing in young people aged 18-25, to come and talk about fertility, toilet infections, condoms, etc, stuff like that. There is free consultation for that group. There is a proposed plan to launch the Fertilink Profile, that promises free services on adolescent reproductive health and sexuality education.
"For those aged 26-35, they would want to know their status, at this age they are thinking of settling down, and concerned about the health of their fallopian tubes. They need maternal health check. And for those aged 35 and above, the women walk into the clinic and know what they want and you help them achieve it. They can pay for it. They want to do a health check but by the time when fertility might have declined considerably."
Ailoje says she is thinking outside the box. "We are attending to all sorts of women situations. We are trying to partner with an institution that is interested in preserving the fertility of women, particularly career women in business.
"That means you can be 28 or 30 and walk into the fertility centre and say you want your eggs preserved while awaiting Mr Right or until you are ready to have your babies, you just want to become what you want to become. It I about encouraging people to preserve, start or enlarge their families. That is my invisible logo. Preserving your fertility or starting your family or enlarging the family."
For her, it is not every 25-year-old that will find a husband today. "There is still going to be a percentage of people who even though being nice, beautiful, virgins and are still unmarried and they can only wait for Mr Right or work things out themselves.
"We are saying that while you are waiting, what if Mr Right comes when you are 43, in which case all of the ripe eggs are gone? So it is about having information to make informed decision. If I know I can keep my eggs for when I am ready it will make a lot of decisions for me. If I do not know, then I leave it. The point is that people need to know there is a facility in which they can preserve their eggs .
"We are not saying this is the trend, it is a natural thing to have a family. Even when people are not married, they want a baby. I know single ladies who say, I just want a baby. Having babies is a cultural thing that has become part of us, but people also want to do it within the family context.
"In the next years, what I would love to see about Lifelink Fertility Centre, is a centre that can create more specialists so that it is the only way we can self regulate and eliminate quackery. We are planning to have an institute where people can come in without the need to go and do promos and gather people to buy equipment.