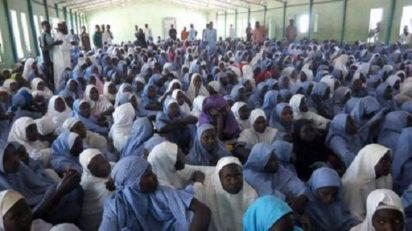 Dapchi schoolgirls during the headcount on Tuesday.
A Muslim cleric, Malam Bashir Yankuzu, has asked Nigerians to pray for the safe release of the missing female students of Government Girls Science and Technical College, Dapchi, Yobe state.
Yankuzu, who is the Chief Imam of the Federal University of Technology ( FUT) Minna, central mosque, made the call in an interview with newsmen, on Tuesday, in Minna.
The Federal Government had confirmed that 110 students of the school are so far unaccounted for, after insurgents believed to be from a faction of Boko Haram invaded their school on Feb 19.
The Minister of Information and Culture, Alhaji Lai Mohammed, announced the figure after a meeting in Damaturu between a Federal Government Delegation and representatives of Yobe state government, the college, the parents, security agencies and Bursari local government, where Dapchi is situated.
Yankuzu said that Nigerians, irrespective of religion, tribal, ethnic and political differences, should intensify prayers for the safe return of the Dapchi girls and the remaining Chibok girls.
"As a nation, we must return back to Almighty Allah in repentance, prayers and sincere obedience.
" Unfortunately, many of our people are only busy looking for faults or frustrating genuine efforts of the security agencies for their personal political and economic gains.
" The children of Israel prayed to Allah to save them from Pharaoh, and He gave them Prophet Moses.
"But when they went astray and started complaining and refused to appreciate Allah, they were thrown into further hardship; Our case must not be like these people," he said.
According to him, anyone who refuses to appreciate what Allah has done to him after granting him what He has asked for, can never be qualified to ask for another change.
" We must appreciate what Allah has done to us as a nation, giving us abundance of human and mineral resources for our well being.
" There is the urgent need for government to do more by providing security to institutions and public places, especially in the Northeast, as part of security measures to prevent future occurrences,'' he said.
The cleric commended efforts of the security personnel deployed to fight the insurgents in the Northeast.
He called on Nigerians to provide security agencies with the required intelligence information that would assist in apprehending all those involved in such illegal acts .