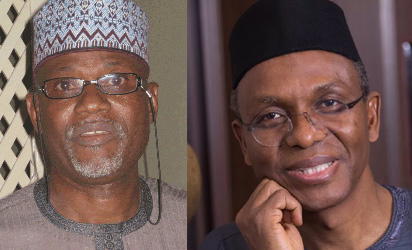 Hukunyi and El-Rufai
The Kaduna state All Progressives Congress (APC) factional leaders Senator, Suleiman Hukunyi, representing Kaduna north, has said that s forgiven Governor Nasir El-Rufai for demolishing his house.

Hukunyi speaking with journalists in Abuja said: "As my own brother, I wish to let him know that I have forgiven him as a person," .
"Your own party, no matter the dispute, what will the military be doing in a location like that, to me if the intention of pulling down that property is to shut me down, it has given me more reason, strong reason to maintain my posture, my belief, maintain my direction in standing strongly with the electorate and my people in my own state," he said.
"As I am standing here today, the 20th of February 2018, let that be an incident for the growth of democracy in that state, let it serve rallying point for those who have been shortchanged, pained in any way in my state by the leadership of Nasir El-Rufai. This is not too much for a price to carry for democracy to thrive, a price to pay to express the opinion of my teeming supporters.
"Let me also use the opportunity to remind Nasir el-Rufai there is another property which I housed him, which he slept in some many times in the course of bringing some many people together to elect him as governor on Queen Elizabeth road in Zaria. In case he forgets and in case he still wants to take it, I rest my case."