Super Eagles goalkeeper Daniel Akpeyi has vowed not to allow critics derail him as he bids to work hard so as to make the cut for the 2018 FIFA World Cup in Russia.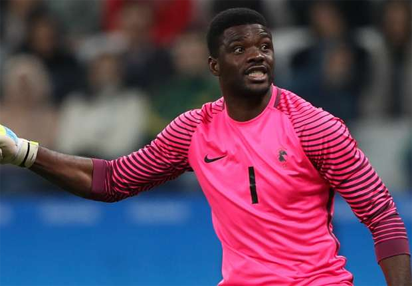 The Chippa United goalkeeper said he would remain undaunted despite harsh criticism of him, insisting that he has continued to work hard at the club level so as to be in top shape whenever he's called up for national duty.
He said as much as he is keen on making coach Gernot Rohr's team to the Mundial as demonstrated by his continuous work at the club level, he would support the decision of the coach so long it would be in the overall interest of the team in Russia.
"I am not competing with any goalkeeper in the team. I am grateful to the coach for extending invitation to me and also giving me an opportunity to play," the former Flying Eagles goalkeeper said.
"Nigeria have good goalkeepers waiting for this opportunity, if anyone deserves it let him play and let's support him so that we can have a formidable team for the World Cup and come back with good results."
He said he would never defame or run anyone down in a bid to make the trip to Russia and he's unhappy some people are orchestrating attacks on him.
"You don't have to talk me down with stories or lie against me on the pages of newspapers because you need to promote someone," he further said.
"I didn't come this far in my career by mistake even though I wasn't given a chance to get here; but I was positive about myself and I worked hard for it and with God's grace I reached the level I am today.
"I haven't reached my mark yet, yes, I made some mistakes; some of the world's best goalkeepers have made worst slips, but they didn't quit because they were criticized and condemned, they fought through it to become the best they are today. So, I'm not exceptional, I will keep fighting."