By Johnbosco Agbakwuru
The Minister of Labour and Employment, Senator Chris Ngige said that President Muhammadu Buhari deserved re-election in 2019 because of his achievements.
Senator Ngige told Saturday Vanguard in Abuja that the President has been successful in the three promises he made in the manifesto of the All Progressives Congress, APC, and that his re-election would help to consolidate on the achievements.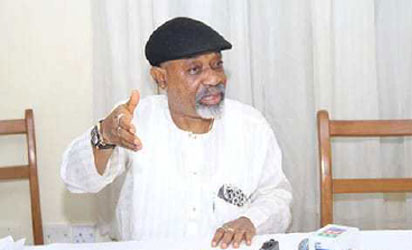 Maintaining that Buhari had performed superlatively, he said corruption has been dealt with by the administration, while job creation has also been given adequate priority.
He said: "I want President Buhari to contest the 2019 election because the President has performed well. He has been superlative on most of the promises in the manifesto of the APC. The manifesto is anchored on three cardinal areas of security, economy and anti-corruption.
"If we start from security, Boko Haram seized up to 14 local government areas in Borno, Yobe and Adamawa states when President Buhari came on board but today they have no territory. Today, they have been decapitated and so he has done well in the area of security.
"I know some people will refer to the herdsmen/farmers issue. These are issues that have been age long. The only thing is that it has taken new connotations and new colouration because of the way arms have flown down from Libya into the sub saharan area and down into Nigeria. So a lot of people have arms and arms should not be in some of those areas.
"On the fight against corruption, you have seen what we have done. The recoveries are many, they are gargantuan. So whether it is the enemy that is assessing (the government) it is up to the person. Yes, there may have been one or two perceptions here and there, but overall President Buhari has done well on security.
"On the economy, we did not control the prices of petroleum products. It nosedived to $37 per barrel but at the same time we went into recession and in just one year, we are out of recession through massive agriculture, through incentives in agriculture to farmers and farmers have created new jobs.
We have about seven million new jobs created in that area but they are blue collar jobs. People are talking about only the air -conditioned white collar jobs. Even in that air conditioned white collar jobs we have created nearly one million jobs.
"So, I do not see why a man with such credentials should not want to go back. I am one of those who believe he should go back. I am one of those who believe that after his tenure, then South East of Nigeria can lay claim being the only zone in the South of Nigeria that has not gone for the president and we have the materials. They abound.
But no one zone can make produce the President without others supporting. So we need support from other zones to produce a president from South East.
"And so we are convinced that President Buhari has done well and we ask him to do another term."
When asked if he was not aware of complaints of Nigerians passing through hardships as cost of living has gone high, he said it was expected in a country that experienced recession, adding that the economic recovery will be gradual.
He said, "The hardships should be expected, if you go into recession, recession is a negative growth and a negative growth will show in terms of employment, it will show in terms of inflation, it will show in terms of whatever that is economically marked.
Part of it is inflation and part of it is that you are also not earning enough exchange to boost your GDP (Gross Domestic Product). Economists will tell you that there are pains when you go through recession.
"So, we hope that with the food security we now have, prices of food items have fallen, a lot of new jobs are being created .
We want to diversify and make people entrepreneurs . These are the things that make for an economic development.
"And so, it will be uncharitable for anybody to say we have not done enough. We have done infrastructural development and injected money into the economy. This is the first time a lot of roads are being reconstructed in the South Eastern States of Nigeria even with oil selling at only $50 and $60 per barrel. Those roads were not reconstructed when oil sold for $120 per barrel.
"So, why are we now being hounded as if we are the people who brought Nigeria to this state? We are the people who are bringing Nigeria out of the bad state it found itself in."