Astrological Counselling
LEO: ITS important you don't take things and people for granted now because they may not be as co-operative tomorrow as they are now. Be more loving.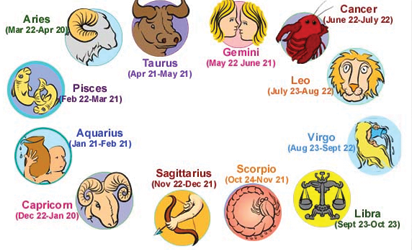 VIRGO: ALTHOUGH there seem to be an air of understanding within your working arena today, tomorrow's full-moon may turn the whole thing the other way.
LIBRA: HERE is an exciting day that will climax tomorrow. After a long time, others will see how passionate you can be even in love. Don't gamble, please.
SCORPIO: IF your desire is to make money today, you will need to be less emotional and prepare for domestic challenges tomorrow. Enjoy your love life.
SAGITTARIUS: GOOD relationship between the Moon  and lucky Jupiter will bring you good opportunities. Be less argumentative.
CAPRICORN: THIS is your day when things will go according to your plans. Financial success indicated but if you wait till tomorrow, opposition'll bring disappointment.
AQUARIUS: THE moon in your star sign that encourages you to be as assertive are likely to oppose you tomorrow. Try to be more friendly.
PISCES: HAPPENINGS within your working arena should be taken more seriously now or else, avoidable trouble would start tomorrow. Again, it's important you are more practical about your health. Be more loving.
ARIES: EVEN, if friends and others are helpful and pledging loyalty today, they may be forced and get on your nerve tomorrow when effects of full-moon'll come to play.
TAURUS: WHATEVER can lead to avoidable trouble tomorrow, either at home or along your career/business lines, should be well taken care of today. Be very open.
GEMINI: YOUR best bet today is to seek important co-operation of influential people and that of your spouse/partner. The more legal conscious you are, the better for you.
CANCER: IF others want you to conclude an important financial transactions that can possibly be done today, you'll need to say no and go ahead as tomorrow may not be as conducive as today.
By Joshua Adeyemo   Phone 08056180139
What's my immediate future?
Dear Joshua,
I am interested in what you are doing. Please tell me what I should expect concerning my immediate future. Would I succeed travelling abroad for business?
Ajibade, Lagos.
Dear Ajibade,
Few years back you have started a very longer (years) great cycle of success and happiness, and this year you will be moving closer to the peak of the said cycle; meaning that your 42nd year on earth will be much more better than all your previous ones on earth.
Visible signs of the positive things will physically manifest during your major first period of the year 2018 that will come between January 24 and February 22, 2018. Then because of transiting lucky Jupiter in Sagittarius B your Solar 9th house of travelling and distant affairs you can be successful at acquiring visa and have a fruitful foreign travels.
However that is not to say that there will not be any challenge during the year. Actually  like it happened about six/seven months ago when work and accident related issues were the major challenges, there will be repeat of such when Lunar Eclipse of April, 2018 will hit the position it occurred around April last.
Send your date and place of birth to the Astrological
Counselling, P.M.B 1007, Apapa, Lagos