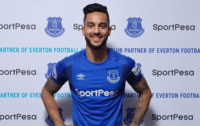 Walcott
Theo Walcott may have ended his 12-year Arsenal career carrying his personal belongings in bin bags, but the England international insisted he bore no ill will towards his old club after joining Premier League rivals Everton.

There was no time for the 28-year-old to say his goodbyes to the Gunners following a move from London to Liverpool worth a reported £25 million ($34 million, 28 million euros) on Wednesday.
Walcott made just 16 appearances for Arsenal in all competitions this season and last started a Premier League game for the north London side in April.
"For whatever reason it didn't happen this year and that's why I've moved on," said Walcott on no longer being a part of Arsenal manager Arsene Wenger's plans.
"I've known him (Wenger) since I was 16 and to bring in a young player and have belief in them I can't thank him enough for that.
"With any player if you are not playing you are going to be upset but I've always had so much respect for the manager.
"When you look at the minutes this season I've played I wasn't part of it so it was just getting the timing right.
"As a personal footballing career decision I felt it was time now. It happened so quickly. There is no point in dwelling on the past.
"When I found I was coming here (Everton) I had to go there (Arsenal's training ground) at night and pick up all my stuff in bin bags.
"I will at some point go back and say my proper goodbyes but we do play them very soon, which I am looking forward to."
Walcott could make his Everton debut at home to West Bromwich Albion on Saturday.