Two Nigerian civil servants are facing charges for allegedly embezzling funds earmarked for a day to publicise the fight against corruption, a court official told AFP Wednesday.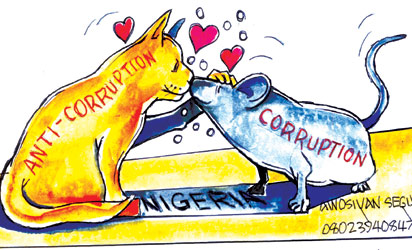 The pair, from the federal ministry of power, works and housing, are accused of diverting 4.5 million naira ($12,500) out of five million naira allocated to mark International Anti-Corruption Day in 2014.
Deputy director Mohammed Musa Abimiku and Micah Paman, who was serving as the chairman of the ministry's anti-corruption and transparency unit, appeared in court in Abuja earlier this month.
Both pleaded not guilty. Judge Olukayode Adeniyi granted the pair bail on 10 million naira ($27,700) and adjourned the case until February 26.
The Independent Corrupt Practices and Other Related Offences Commission (ICPC) first announced the charges and court appearance on Tuesday.
President Muhammadu Buhari came to power in 2015 vowing to crack down on endemic corruption, which he said had seen "mind-boggling" sums of public money stolen over the years.
But the bulk of his administration's major graft cases are trapped in court, with critics saying that the corrupt status quo remains intact.