By  Ediri Ejoh & Prince Okafor
The President of Nigeria Liquefied Petroleum Gas Association, NLPGA, Nuhu Yakubu, has identified the LPG sector as very strategic, capable of stimulating economic growth in the country.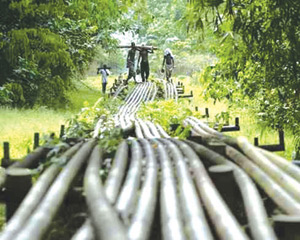 Speaking at this year's annual NLPGA conference in Lagos, Yakubu stated that the country remains a net exporter of the product.
According to him, "Nigeria is a net exporter of LPG. We produce more than five million metric tons of LPG per annum and we are exporting over four million metric tons. Nigeria only consumes about 500,000 metric tons when we have the capacity to consume five million tons.
"The LPG market as we rightly say is a $10 billion industry with many multiplier effects, including employment."
He lamented that the sector was affected by many problems especially, "inadequate infrastructure such as gas cylinders and tankers required for storage and movement of the product from one place to another respectively.
We also need qualified and experienced personnel to enhance LPG operations in Nigeria." However, he added that they are working with the Federal Government.to solve the problems. "We appreciate the fact that this government is listening. For instance, the government has appointed one of our members as the program director of LPG.
"For once, we have seen government put a 'square peg in a square hole'. Consequently, he understands the issues very well. Apparently because of the robustness of our discussions, the government is thinking of injecting more cylinders into the market because every home in the country deserves to have a cooking gas cylinder. This will go a long way towards tackling energy poverty as well as various health issues associated with the application of dirty fuels."
Commenting on other challenges, he added that: "We need functional terminals. The retail side of the business is not growing as fast as it should be because of affordability.
"The product is not delivered to consumers at the right price because of sharp practices and the bottlenecks at the jetties. Also, we do not have adequate trucks for distribution of the product."
…Rolls out training program for LPG operators
Meanwhile, the NLPGA has disclosed plans for the training of its members.
The Vice-President of NLPGA and Managing Director/CEO of Banner Energy, Mr. Nuhu Yakubu, made this disclosure during the NLPGA Safety and Technical Committee Press conference in Lagos.
According to him, "As an association, we are at the forefront of championing specific actions to mitigate incidents and accidents.  Central to this is a robust program to educate all stakeholders along the value chain, which means every participant in the industry from the supply side (i.e. ship owners and producers), through to demand side (i.e. residential and industrial consumers) is educated on the safe handling and use of LPG.
"The association would engage in activities which include awareness building and training on the safe storage and use of LPG, education on best practices for installations in homes and high rise buildings amongst others."
In addition, Yakubu noted that there will be a certification programme for installers and training for truck drivers on safe loading and unloading of LPG.
He said that there will be training for operators, managers and supervisors on the safe operation of equipment, according to global best practices, adding that another training and certification of installers of equipment and piping systems were being planned.
Yakubu disclosed that: "The industry holds as its ultimate objective, the promotion of the safe use of this exceptional form of energy for the benefit of Nigeria and Nigerians.
"LPG is a valuable resource that serves the citizens of Nigeria well. Already, LPG has helped two million homes switch to a cleaner gaseous fuel as well as reduce deforestation and gas flaring in the nation, adding that this has culminated in a reduction of respiratory and health-related incidents amongst women and children."
"Our hearts ache as we reflect on these unfortunate incidents and we commiserate with those who were directly and indirectly affected. These recent events have highlighted the need to address the three overarching industry objectives of safe handling and best practises in LPG; loss of containment (prevention of gas leaks); and successful disaster management."