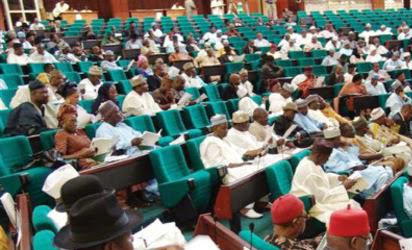 House of Representatives
By Emman Ovuakporie
ABUJA—AT last,  the House of Representatives, yesterday, passed the Petroleum Industry Governance Bill, PIGB, which provides for the governance and institutional framework for the petroleum industry and for other related matters, after third reading.
The 13 years old 191-page bill (a segment of the entire Bill), seeks to unbundle the Nigerian National Petroleum Corporation, NNPC, provides for the establishment of Federal Ministry of Petroleum Incorporated, Nigerian Petroleum Regulatory Commission, Nigerian Petroleum Assets Management Company and National Petroleum Company and Petroleum Equalisation Fund.
Deputy Chairman, Ad-hoc Committee on Petroleum Industry Bills, Victor Nwokolo (PDP, Delta), who led the debate on the report, explained that the regulatory bill will bulkanise NNPC and create National Petroleum Commission which will take over the functions of the Department of Petroleum Resources, DPR.
He explained that some subsidiaries of the NNPC had also been merged into an entity to be known as the Nigeria Petroleum Regulatory Commission.
According to him, the House Committee adopted the Senate's version of the PIGB.
When the bill was announced for consideration at the Committee of the Whole, only 30 members of the House of Representatives considered and passed the PIGB within 23 minutes (2:19p.m., to 2:42p.m).
Copies of the 191-page PIGB report which was laid on resumption from Christmas/New Year recess on Tuesday, was slated for consideration barely 24 hours.
Many of the lawmakers had no clean copies to read for a robust debate.
The Bill is just a fragment of the entire Bill as this aspect is just the regulatory framework.
The bill further provides that "Upon the recommendations of the new commission, the Minister of Petroleum Resources can grant, amend, renew, extend or revoke any licence or lease required for petroleum or production, pursuant to the provisions of the Act or any other enactment."
The power for issuing and revoking licenses was also domiciled in the commission, as well as allocating petroleum production quotas in a non-discriminatory manner.
The commission is also empowered to advise the Minister on fiscal and other issues pertaining to the petroleum industry, establish framework for the validation and certification of national hydrocarbon reserves, undertake evaluation of national reserves and reservoir management studies as well as conduct regular audits of the activities of operators engaged in petroleum operations and oil service companies in order to ensure compliance with Nigerian laws and requirements for petroleum operations.