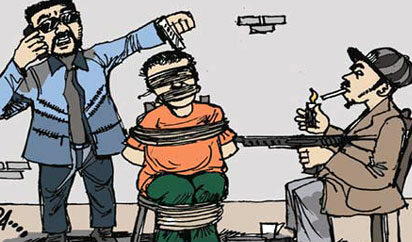 Kidnap
Allegations a young engineer was kidnapped and made to marry at gunpoint are being investigated by police in one of India's poorest states, which has a history of forced marriage of men.
Video footage apparently showing Vinod Kumar being forced to go through with a wedding by his bride's family sparked the probe, police in the eastern state of Bihar said Friday.
'Pakadua Vivah' (forced marriage) is a practice specific to Bihar and surrounding areas, and is mainly carried out by poor families who cannot afford a dowry — still a widespread expectation in India.
A video circulated on social media shows the engineer being manhandled and forced to dress for the wedding as he pleads for freedom.
"We are only performing your wedding, not hanging you," one man is heard to shout as Kumar begs to be released.
Another video shows Kumar sitting beside his bride crying while a woman, apparently an in-law, tries to console him.
Lalan Mohan Prasad, a local officer, told AFP police had contacted Kumar and offered their help but he had not formally complained.
Local media quoted the engineer as saying one of the bride's relatives had pointed a pistol at him after they met at a mutual friend's wedding and ordered him to marry her.
Since the incident, he has reportedly escaped and returned to his home in neighbouring Jharkhand state.
Bihar has a long-held reputation for lawlessness and gang violence, with families thought to enlist organised criminals to help them carry out abductions and forced marriages.
Local social scientist Saibal Gupta said such marriages enjoyed widespread acceptance and tended to endure, given the stigma of divorce.
"The frequency of such kidnappings has come down, but certainly not stopped. Poverty is still rampant," he told AFP.
Official figures show police received nearly 3,000 complaints of groom kidnapping in 2016. None of the marriages were annulled.