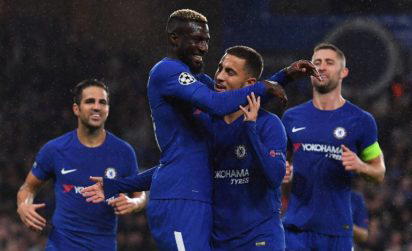 Chelsea's French midfielder Tiemoue Bakayoko (L) celebrates scoring his team's fourth goal with Chelsea's Belgian midfielder Eden Hazard during the UEFA Champions League Group C football match between Chelsea and Qarabag at Stamford Bridge in London on September 12, 2017. / AFP PHOTO / Ben STANSALL
Chelsea pledged to help authorities investigate after a report Friday said three former youth-team players had launched legal claims against the club alleging they were bullied and racially abused.

Britain's Guardian newspaper said former youth coach Graham Rix and ex-chief scout Gwyn Williams had allegedly abused the black players in the 1990s.
The claims — denied by Rix and Williams — have already been investigated by the police, who decided to take no further action, but they are being looked at by the club and the Football Association, which has reportedly interviewed two of the players.
According to the report, Rix threw a cup of hot coffee in the face of one of the players and left one of the complainants with a bleeding nose after throwing a ball at him.
And the alleged victims say they were consistently racially abused with a series of taunts.
"These allegations were the subject of a thorough investigation by specialist officers of the Metropolitan Police Service," a statement from the pair's lawyer Eddie Johns said.
"The MPS did not consider there was sufficient evidence even to report it to the Crown Prosecution Service. Our clients cooperated with that investigation.
"The allegations in the Guardian newspaper are contained, as we understand it, within correspondence sent to Chelsea Football Club. That correspondence has not been seen by our clients or by us.
"No correspondence has been sent to our clients or us by these individuals or those representing them. We will of course deal with any allegations if made directly to our clients. Our clients are cooperating fully with the FA in this matter."
Former Arsenal and England player Rix, 60, left Chelsea in 2000, a year after being jailed for having sex with an underage girl, while Williams left the club in 2006.
The story broke just before Chelsea head coach Antonio Conte's pre-match press conference for Saturday's Premier League game at home to Leicester, forcing the club's director of communications Steve Atkins to intervene with a statement.
"I can't answer specifically to the story you mentioned," said Atkins, in response to a reporter's question.
"What I can say is that we take allegations of this nature extremely seriously, we are absolutely determined to do the right thing, to fully support those affected and assist the authorities and support their investigations. That's all I can say."
An FA spokesman declined to comment.