By Samuel Oyadongha
BAYELSA State governor, Mr. Seriake Dickson, has described 2018 as a year of hope and revival for Nigerians in all spheres of national life, especially in the areas of security and economic prosperity.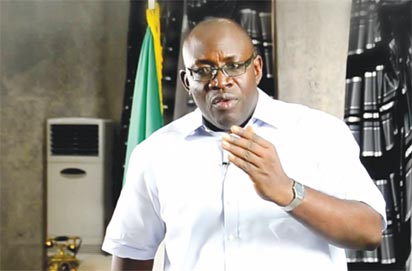 Dickson, in a statement by his Chief Press Secretary, Francis Agbo, spoke at an interdenominational church service in his hometown, Toru Orua, in Sagbama Local Government Area of the state.
He expressed optimism that the New Year  would be better than 2017.
The governor, however, called on Nigerians to pray for their leaders to enable them make sound decisions to expand the frontiers of development in the new year.
Dickson, who underscored that leadership entails critical decision-making, particularly urged Nigerians to pray for divine wisdom, direction and health for leaders to execute projects, policies and programmes in the best interest of the citizenry.
According to him: "By the grace of God, year 2018 is going to bring more hope, greater development, security and above all, it is going to usher in greater prosperity for all of us.  All I ask is your continued support and prayers for all our leaders in this nation. Pray for us to be guided and that we should have divine wisdom, direction, strength and health to do the work that it has pleased God Almighty to entrust on us."
While thanking Bayelsans and religious bodies for their continued support, Dickson reassured the people of the state of his administration's commitment towards the completion of all ongoing projects in the state.
Emphasizing the need for peace, he warned criminal elements to have a change of heart or leave the state, as the government would not hesitate to take decisive actions against them to guarantee the continued stability and security of the state for development to thrive.
Dickson also used the occasion to announce Psalm Chapter Seven, verse One as the state memory verse for year 2018, and wished the people of the state well in all their endeavours.
The service, which featured special prayers for Bayelsa and Nigeria as a whole, had wife of the Governor, Dr Rachel Dickson, the state Secretary of the Peoples Democratic Party, Mr Godspower Keku, member of the State House of Assembly, Hon. Salo Adikumo, the Chaplain, King of Glory Chapel, Government House, Yenagoa Bishop Dotimi Egbegi and the Senior Special Assistant to the Governor on Grassroots Mobilization, Mr Victor Okubonanabo in attendance.