Kano – The Association of Kano Butchers Multi purpose Cooperative Society decried low patronage by customers in the Christmas season due to financial challenges.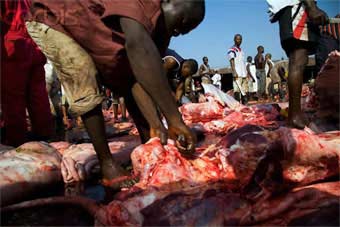 The Public Relations Officer of the Association, Alhaji Jinjiri Ali, disclosed this in an interview in Kano on Monday.
According to him, this year's festive season is not like the previous year when "we slaughtered between 200 to 250 cows daily, but this year we slaughtered between 100 to 150 cows daily".
Ali said the price of a big cow now cost N130,000 to N200,000 as against N80,000 to N100,000 earlier.
"The high cost of transportation occasioned by the ongoing fuel scarcity across the country leads to the high cost of cow."
Ado Haruna, a meat seller at Abbatoir market, expressed dissatisfaction with the level of sales this season, adding that he hardly sold all the meat this season, unlike last year's Christmas.
"Last Christmas I sold all the meat and customers still came for more supply"
Haruna added that people preferred to purchase chicken this season than cow meat," he lamented.
"I hope next years Christmas will be easier for people than this year," he said. (NAN)