*as NOWA moves to empowers widows, orphans of slain personnel
By Evelyn Usman
The number of widows of naval personnel who died in active service has risen over 200 in three years, just as the Naval Officers Wives Association,NOWA has moved to assist them with a view to lessening the burden associated with their present states.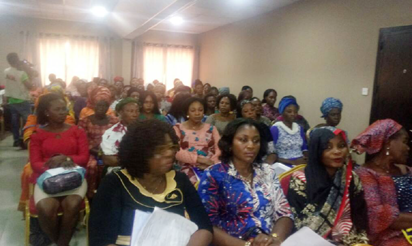 President of NOWA and wife of the Chief of the Naval Staff, Mrs Theresa Ibas , in her welcome address at a programme tagged ' A day out with Widows and Orphans ' to mark the end of year activities of the association, lamented that several widows in Nigeria and the world at large were confronted with a mirage of problem.
She decried the increasing number of widows particularly in Nigeria, blaming it on insurgency challenges and inter-tribal crisis, a situation she said usually left the affected women to carter for themselves and their families alone.
Ibas explained that plan to remember widows of fallen naval officers was initiated in 2013 by the then NOWA president , Mrs Ifeyinwa Ezeoba , during which about 100 widows and orphans were assisted with cash . The second edition according to her , was in 2014 , where the number of widows who were assisted by NOWA under the leadership of Mrs Lami Ohiama Jubrin, increased to 150 .
Again, the number according to her increased to 200 in 2015 and over 300 in 2016 , under her leadership as NOWA president.
But she stated that this year's edition took a new dimension , " especially with the completion of NOWA skills Acquisition centre which has just been commissioned for use. As usual, we have done a random selection from all zones , cutting across both officers and ratings cadres .Widows need special assistance as they have another role added to their burdens – that of breadwinner . Widows need longer term development support and income generating activities . One key component of support needed to achieve improvement in the lives of widows and their families is skills acquisition . NOWA skills acquisition center is designed to provide sustainable income generating skills and vocations to widows , orphans and vulnerable women who are bread winners. They will be given opportunities to be trained on various skills", she said even as she frowned at the manner with which widows were still being subjected to harmful tradition practices in many parts of the country, a situation she said had heightened calls for legislation against it.
Corroborating her assertion, the special guest of honour , Vice Admiral Ibok Ette-Ibass , stated that the life of widows and orphans was punctured by myriads of challenges as well as ambivalent aspiration, as the death of a bread winner naturally plunged the entire family into a dungeon of pain, agony and sorrow.
The CNS who was represented by Rear Admiral A.Z Gambo said: " Fundamentally, what the widows and orphans need at the time of daunting challenges occasioned by the death of the heads of the family is support. NOWA has been able to add value to the lives of many who have been emasculated by the challenges of life"
Proffering solutions on how to overcome the challenging moment of a widow, a speaker at the event, Mrs Damilola Olayinka-Alliu, advised that widows should engage themselves in positive activities , have a forgiving heart , learn how to love their lonely moments , as well as understand that they could love again.
Also speaking at the occasion on a theme tagged ' Light in the Darkness, , Rev. H.N Anie, who read from 2nd Kings chapter 4 verse 7 in the Holy Bible, said like the widow in the scripture, widows should never assume they did not have anything, advising rather that they should discover themselves in their areas of competence and also be mindful of who they took counsel from at such moment.
A visual impaired lady, Adenife Adeniran, moved everyone to tears as she reminded widows and orphans that their present state was not the end of the world, informing that if she could write a book in her state, then, any other person could do more. Adeniran who commended NOWA for assisting her medically, however noted that the association's focus should not only be on widows but widowers as well .