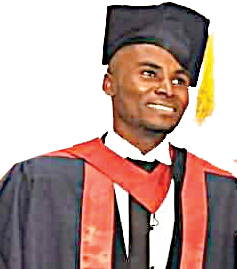 •AWE Fredrick Oluwatimilehin
By Dayo Johnson, Akure
AWE Fredrick Oluwatimilehin, who emerged the best graduating student of Adekunle Ajasin University, Akungba-Akoko, Ondo State, faced many life challenges. His story changed due to hard work and self-determination.
As a child, he told the story of how his father abandoned him and his siblings for about twenty years.
As if that was not enough to slow him down in life, after attempting the Unified Tertiary Matriculation Examination, UTME, twice and gained admission to university to study physics and electronics, he fell into the hands of ritualists in his final year.
"It happened after my 400-level first semester examination during the ASUU strike in September 2016. I was travelling from Ondo to Ore when l was abducted by some ritualists", Awe told the congregation during the 2017 graduation ceremony of the Adekunle Ajasin University in a speech he made on behalf of graduating students.
"I spent three days in the ritualists' den with no food to eat and water to drink. During this time, the hair on my chest was removed. But when they were about to remove the hair on my head, they screamed that fire was burning them.   It was then that the leader of the ritualists said that they should return me to where they picked me from as I was not the kind of person they needed.
"Others were not that lucky. They later dropped me off at Okeigbo and it took me over three hours to trace back my way to the nearest village where I called my people with a 'Good Samaritan's' telephone.
"That was the most frightening period of my life that last will live to remember. If not for the prayers of my family members, l wouldn't have made it through. I became scared of travelling after that incident.
"These experiences (father's abandonment and ritualists' abduction) strengthened my belief in God and have helped me to keep pushing for the best, with the belief that l have something to live for".
One of honorary doctoral award recipients at the 7th convocation ceremony, Governor Rochas Okorocha, who was moved by the story of Awe, on the spot, donated N500, 000 to him.
Okorocha said, "I would have liked to take you out for lunch but for my time. However, kindly accept N500, 000 for the lunch.
"Stand with me. I love to identify with greatness. Blessed is the womb of your mother ".
The governor handed N500, 000 cash to Awe and the audience rose to applaud him in appreciation of his gesture.
The best graduating student was totally overwhelmed and he shed tears of joy while his family members rushed to the rostrum to share in his joy.
Speaking with Sunday Vanguard afterwards, he said he never planned to be the best graduating student of his department not to talk of the overall best graduating student.
On what went through his mind when the cash donation was made by the lmo governor, Awe said, "l was overwhelmed".
He said his plan was to "press on in my academic career by going for my master's degree and then doctorate".
"Life is not always fair but no matter how hard it gets one should always be positive, hardworking and believe in God", Awe pointed out.
"My advice is that one should always think himself as the best and the best he would be.
Meanwhile, Governor Rotimi Akeredolu of Ondo and Visitor to the university, told the congregation that his administration had started paying keen attention to the issue of curriculum in the state's tertiary institutions to reflect societal realities.
According to him, the system which renders graduates more confused than they were when they entered university must be jettisoned.
He said the need to make curricula reflect the challenges of the environment arose from the conscious efforts to produce "real experts" who would fix the nation's economy.
"We cannot afford to continue to churn out graduates who are basically unemployable by virtue of the defective nuggets of instruction with which they were trained", the governor said. "The huge presence of an ever-increasing army of unemployed graduates in our underdeveloped economy is embarrassing. We must take bold steps to reverse the unfortunate situation.
"I do not want to be misunderstood as dismissing our graduates as useless. I actually believe that the system has been most unfair to them. The fact that most of those who have the opportunity to travel abroad excel beyond expectation should compel us to review our style of training these wonderful creatures."
Akeredolu recalled that his administration, at inception, promised to have a critical look into the education sector, adding that a summit and far-reaching recommendations had been made.
He assured the people of the state and stakeholders at the convocation ceremony that his administration would not abandon its responsibilities to them.
"We will continue to do our best within available resources. We will, however, appeal to other stakeholders not to leave this important task for the government alone to tackle."
The Vice Chancellor of the university, Prof Igbekele Ajibefun, said 9,812 graduating students received various degrees. Of this number, 7,786 belonged to the 2014/2015 session while 2,026 were of the 2015/2016 session.
Of the 7,624 that earned first degree in the 2014/2015 session, 29 graduated with First Class, 1,316 bagged Second Class Upper Division, 5,183 earned Second Class Lower Division, 1,027 had Third Class while 69 got Pass Degree.
Of the 2,026 that graduated in the 2015/2016 session, 21 earned First Class, 609 graduated in Second Class Upper Division, 1,151 bagged Second Class Lower Division, 239 got Third Class while six had Pass Degree.