Gov. Aminu Tambuwal of Sokoto State, has urged Nigerians to pray and support their leaders as they strive to find lasting solution to the myriad of challenges confronting the nation.
Tambuwal in a Christmas message signed by his spokesman, Malam Imam Imam, also enjoined Nigerians to continue to reflect on positive tenets that unite the nation and strengthen the polity.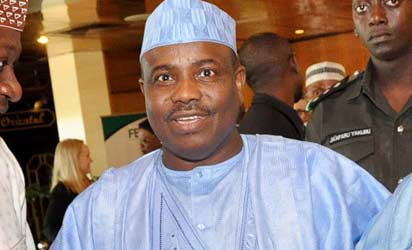 "This period calls for introspection and continued prayers for our dear nation.
"It is a fact that the last few days have been tough for our nation especially because of glitches in the supply of fuel.
"But we should trust those in charge to overcome the challenges in the shortest possible time.
"On our part, we are committed to doing everything possible that will lead to lasting peace, improvement in the welfare and security of Nigerians," the governor said.
He further urged all Nigerians to be their brothers' keepers and shun vices that could jeopardize the efforts of government towards enabling the citizens to realise their life ambitions..
"We must ponder on the teachings and lessons of Christmas by exhibiting good character at all times.
"We should extend hands of fellowship and build blocks of unity and understanding, irrespective of our perceived differences.
"On behalf of the people and Government of Sokoto State, I wish all Nigerians, especially those of Christian faith, a Merry Christmas and a Happy New Year ahead," he added.
NAN