By Godwin Oritse
The Managing Director of the Nigerian Ports Authority,NPA, Ms Hadiza Bala Usman, visited eastern ports and spoke to Sunday Vanguard on how NPA hopes to review its agreements with partners for profitability.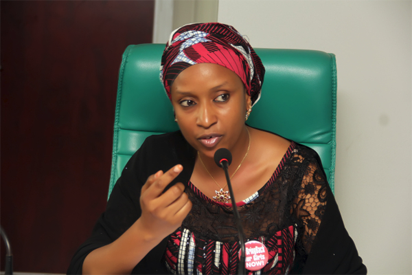 Berth 8 in Port Harcourt collapsed and we are made to understand that that very berth is allocated to a highly influential concessionaire. What decisive measure is NPA taking to ensure that people do not treat your facility with levity?
We have seen the collapsed berth. Like I mentioned, it is not acceptable for any terminal operator not to comply with the provision of the concession agreement whereby you are required to build infrastructure. We will take the defective requirement as it relates to any penalty clauses and termination clauses as required.
What is NPA doing to harmonise payments of dues and levies from oil and gas operators?
As we mentioned regarding revenue leakages, we are working to have all revenues that are meant for the Federal government to go into the Treasury Single Account. We have commenced that programme with collection of service boat charges which we will be doing with effect from next month.
Where all payments will come to NPA as an entity and NPA will be the one to review all provisions of those payments, NPA will issue the invoices, and lead on the collection of those revenues.
We have noted a situation where a service provider is collecting on behalfof NPA (service provider) that is not acceptable to us going forward.
All payments will be made directly to NPA and NPA will reconcile its accounts and make any payment due to the service provider.
This is the first of many steps towards ensuring that all revenue leakages are blocked, this is the first step in ensuring that such payments as you mentioned in the disparity in the revenue collection and the disparity mode of collection, will be effected within the shortest period.
You said NPA will review its contract with African Circle marine Pollution control firm because the contract is skewed in favour of African Circle, will this review be extended to other partners of the authority?
We are looking at all such agreements; we are looking at agreement between NPA and an operator service provider. As regards African Circle, what I mentioned was that we will look at the deployment of infrastructure that is required of them vis-à-vis the agreement.
We will look at what they have done to ascertain if they have really done these deployments, and to determine if the revenue sharing formula as provided in the agreement is beneficial to the government.
First, have they deployed as stipulated in the agreement, have they provided the entire infrastructures.
Then the next stage will be the revenue sharing formula, is it beneficial to government, is it what we believe should come to the coffers of the Federal Government?
And indeed all agreements will also be looked into particularly agreements that have revenue sharing formula with the authority. Our joint venture agreement, our concession agreements, we need to look at them again, take into consideration where we find ourselves as a country now.
We are going through an economic down turn. Some of these provisions were made at the time where Nigeria had a buoyant economy. So we need to appreciate where we find ourselves to day and take certain critical decisions.
With regard to Intels, one of the immediate revenue blocking measures that we started is to ensure Intels as a service provider; for the collection of service boat charges pays directly to the Federal government as opposed to what was obtainable when they collect such monies into their own coffers.
On Mid stream cargo discharge, it is becoming an issue that operators are frowning against and NPA has been quiet over the matter, why is NPA silent about it?
On mid stream discharge, we are conducting a review to determine what the provision of the law says. We are looking at safe anchorage area where the NPA will provide safe anchorage.
One of the issues that people mentioned is that there is a bit of security challenge in some parts of the Eastern ports, how do you intend to enhance security at the port?
Enhancing security at the port was one of the priority areas we discussed today.
We are looking at how we can improve the current position, we are looking at how new access cards will be issued where people are able to verify who they are over a period of time. The current port access card is not sufficient; we have the need to review that in totality We believe that all service providers and operators within the port need to have one standard pool where they will have their certification for access.
That one pool has not been created, port passes are issued at random.
We need to create that pool, we need to have peoples' biometric and ensure that there is a complete compliance to the ISPS Code.