By Godfrey Bivbere
LAGOS—DIRECTOR-GENERAL of the Nigerian Maritime Administration and Safety Agency, NIMASA, Dr Dakuku Peterside, has said that the Cabotage Vessel Financing Fund, CVFF, has slightly over-shot the $100 million instead of the $100 billion currently being speculated.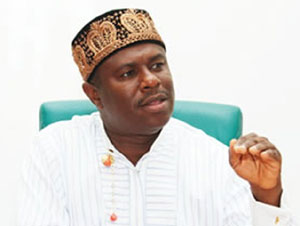 Peterside who disclosed this in Lagos, said the money was intact, noting that the non-disbursement of the fund was the responsibility of the Minister of Transportation.
He said the minister's refusal to disburse the fund was due to the absence of a proper guideline and procedure to do so.
The CVFF is a two per cent contribution by indigenous ship-owners for every contract ship-owners execute and is meant for the development of cabotage fleet and local shipping capacity.
Despite complaints by the indigenous ship-owner over the non-disbursement of the funds, the minister had told them at their end of year workshop and dinner with the theme: "Giving Critical Lifeline To The Nigerian Maritime Industry," that he will not release the funds.
Meanwhile, the NIMASA boss also frowned at the fact that the international community misrepresents kidnapping, theft, breaking of pipelines, as piracy, noting that efforts were being made to enlightening the International Maritime Bureau, IMB on these developments.
He  stated that the Federal Government was working to track the issue of piracy on three fronts, which are the legal framework, acquisition of military hardware and regional integration.
On the issue of law, the NIMASA boss said that the frame work was completed and before the National Assembly.
He noted that when the law is finally passed, Nigeria will be the first country in Africa to have such law in place against piracy.
He explained that the $195 million contract with the Israeli firm is to help procure security equipment and assist in training Nigerian security personnel in tackling crime along the nation's waterways.
The NIMASA helmsman also said that the response time for such incidents was  not fast enough and will be one of the things that would be worked on.