Former governor of Sokoto State, Attahiru Dalhatu Bafarawa will on 25 January 2018 know his fate in the criminal charge of corruption slammed against him by the Economic and Financial Crimes Commission.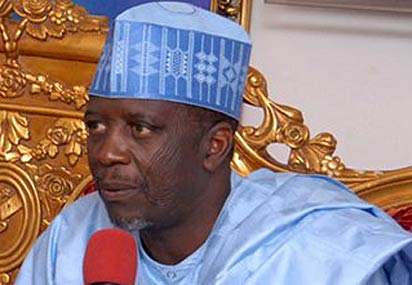 A Sokoto State High Court will then decide whether the eight year-old case should go for trial or be dismissed, following the no case submission by Bafarawa's lawyers.
The former governor was charged alongside 16 others with alleged diversion and theft of public funds to the tune of N15 billion.
Upon arraignment on the 16th December, 2009, Bafarawa and his co-accused pleaded not guilty to the 47 count charge.
Those charged with him are; Alhaji Nasiru Dalhatu Bafarawa, Alhaji Isa Sadiq Achida, Hajia Aishatu Binji, Sen. Salihu Bakwai, Alhaji Salihu Maibuhu Gunmi, Adamu Gurori, Alhaji Adamu Gurori, Alhaji Habibu Halilu Modaci, and Sambo Bello Danchadi. Others are Alhaji Abdullahi Ahmed Bida, Chief Mike Umeh, Alhaji Umaru Kwambo, Shehu Koko, Ubale Yahaya, Alhaji Maigari Dingyadi, and Alhaji Tukur Alkali.
However, in the course of the trial and to the surprise of prosecution, the present governor of Sokoto, Aminu Waziri Tambuwal decided to pardon five of the 16 accused persons charged with Bafarawa.
Those pardoned are; Alhaji Tukur Alkali, Bello Isah, Alhaji Isah Sadiq, Alhaji Habibu Halilu Modachi and Alhaji Muhammadu Maigari Dingyadi.
Being dissatisfied with the 25th September, 2017 ruling of the trial court, the EFCC approached the Court of Appeal, Sokoto division, to quash the ruling the lower court.
On 16 November, 2017, the commission closed its case against the remaining accused persons.
Subsequently, the accused persons filed a no-case submission through their lawyers: Lateef Fagbemi, SAN for the 1st,2nd,5th,6th and 7th accused persons and Mohammed Adeleke for the 3rd and 4th accused persons.
In his argument, Fagbemi submitted that the prosecution failed to provide the ingredients of the offences his clients were charged with.
He added that for offence to qualify as an offence, it must be backed by law and in the instant case, according to him, the prosecution failed to cite the provisions of the law that his clients had violated.
He further argued that such law must be tendered before the court since it must have been gazetted.
Adeleke, counsel to the 3rd and 4th accused persons, urged the court to adopt the written address as his argument and discharge and acquit his clients.
He called the attention of the court to pages13 and 14 in paragraph 4.25 and 4.26 of the prosecution written address where they conceded that no prima-facie case has been established against his client.
After listening to the argument of counsel, Justice Abbas adjourned the matter to January 25th, 2017 for ruling on the no case submission.