By Victor Efeizomor
When  Governor Ifeanyi Okowa of Delta State was inaugurated  on May 29,2015 , he knew the enormity of the task  before him.
So he  hit the ground running.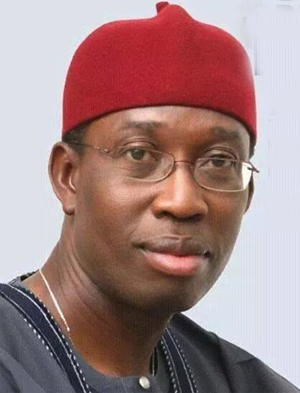 After two years and five months of four years tenure of  his  administration, an independent and non- political group, the National Competitiveness Council of Nigeria (NCCN), has  passed  a verdict.
The NCCN,  a forth night ago,  rated Delta State  as  number one in human capital  development  in Nigeria.  It  also rated the state  second in Sub-National Index overall ranking in the country behind Lagos.
The council, whose mandate it is to improve the attractiveness of Nigeria's economy as a place to do business in the global marketplace, carried out its assessments of Delta State socio-economic development devoid of  bias  or any political interference, but on what  Okowa has done.
The implication of the NCCN report is that  the governor  has met the expectations of Deltans. It also means  he  has spread development across the state and removed the mistrust  between the three senatorial zones in line with the SMART agenda of transforming lives.
No doubt, assessing Okowa's accomplishments must come from a non-partisan angle with analytical mind to give a fair verdict that supports  value for democracy.
But  it is necessary to put the records straight. Okowa came at a most difficult time of recession, huge debt profile, bloated wage bills, uncompleted projects  pipeline vandalism and fall of oil prices that dipped  economic potentials.
And with  a clear  vision  to create wealth, reduce unemployment through technical, vocational and formal education, make food abundant, provide  functional health institutions, enhance peace building for economic growth, the SMART agenda became the template.
SMART means- Strategic wealth creation projects and provision of jobs for all Deltans, Meaningful peace building platforms aimed at political and social stability, Agricultural reforms and accelerated industrialization, Relevant health and education policies, and Transformed Environment through Urban Renewal.
It is economic, political and social awakening to deepen Delta beyond oil and lay sustainable economic and infrastructural development.
Okowa, upon assumption of office, blocked all leakages, made corruption unattractive and ensured prudent management and accountability to attract investors. This won him confidence of the masses.
He has demystified political power and office, that is why everybody  including  opposition  elements, sees  him as  the central point for the fertilisation of ideas. Today, Delta is witnessing uncommon transformation in wealth creation, health institutions, agriculture, industrialisation, rural and infrastructural development, peace building and inter-ethnic relations among others.
The projects embarked by Okowa had multiplier effect on the economy. Delta invested  in  agriculture, acquiring 3,850 hectares of farmland and encouraged the establishment of rice processing mills to support rice cultivation.
Okowa  places high premium on education.
Technical colleges have been upgraded, public schools have their pride restored and teachers are now well remunerated, while students study under conducive environment.
The health sector is transformed with a universal health insurance scheme that afford every Deltan access to health. The state's teaching hospitals have been transformed in medical personnel, training and facilities. Primary health care is also a priority and various communities have functional health centers that take health closer to people.
The state is witnessing uncommon transformation of roads linking hamlets to villages, villages to towns and towns to cities, increasing transportation of goods and services, promoting economic activities.
The Commissioner for Economic Planning, Dr Kingsley Emu, while  commenting on the National Competitiveness Council of Nigeria (NCCN) said  the NCCN report was the outcome of a research carried out  last two year which  justifies the huge expenditure by the  state  government on developing its human capital base.
There is no other time than now  in joining  hands with  Okowa in the task of building a greater and prosperous  Deltan  rather than  engaging  in  mudslinging and being a clog in the wheel of progress  as the transformation train  is already in motion.
Efeizomor is Print Media Assistant to Gov. Okowa