The National Coordinator APGA Media Warriors Forum, Evang Chinedu Obigwe has said that the governorship candidate for All Progressives Congress, Tony Nwoye, lacked the managerial and leadership qualities needed to pilot a state, thus cannot lead the people of Anambra.
"Nwoye is not a governorship material. He lacks the qualities of a good leader. What does he know about politics, economy and finance? Which financial position has he handled? The man is nothing but a tout", he said.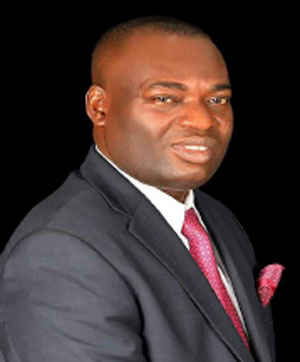 In a press release issued to newsmen on Wednesday, Obigwe referred to Nwoye's claim of convincing the Minister for Power, Works and Housing, Mr. Babatunde Fashola to order Contractors back to site at the Umunya to Awkuzu axis of Enugu/Onitsha Express way, as a beer parlour and hair dressing salon gossip.
"Nwoye should adopt a good campaign manifesto rather talking gibberish. Anambra people are very intelligent people; you cannot lie to them about yourself. They know who you are and what you can do", he said.
His statement reads:
"The problem with the APC Governorship candidate is that he is seeing the people of the State as those with short memories that have forgotten the successful effort Governor Obiano's administration made to bring Fashola and his Minister of State to Anambra State for an inspection visit on executed Federal project sites and bad Federal roads.
"If Tony Nwoye is looking for what to do for the people of the State with his self acclaimed Federal influence, he should tell the Federal government to pay Anambra State government the 48bilion naira they owe the State on executed Federal projects across the State.
"Tony Nwoye through his conduct in this campaign period has ended up portraying himself as a neophyte in governance matters.
"His disgraceful outing at channels television is a proof that he is not a governorship material. My candid advice to Tony Nwoye is that he should go and start managing one of the parks at upper iweka Onitsha. I think he will be good there.
"Tony Nwoye's allegation that Governor Obiano embezzled 20billion naira of Anambra State local government allocation was nothing but concocted tissues of lies that have no iota of truth.
"The APC Governorship candidate talks flippantly without control like somebody suffering chronic diarrhoea of the mouth ailment and that a State that produced the likes of Emeka Anyaoku, Philip Emeagwali, Chike Obi, the great Zik of Africa, Oby Ezekwesili and Dr Alex Ekwueme cannot be governed by a motor park tout. He advised Anambra people to vote for Governor Obiano to keep him working for the betterment of the State."