By Josephine Agbonkhese
The Founder of Aboutthatcurvylife, ATCL, an initiative that started out as a body positive advocacy movement on instagram for plus size people, Latasha Ngwube's beauty and personal sense of style could make even the skinniest woman on earth wish for a plus size body.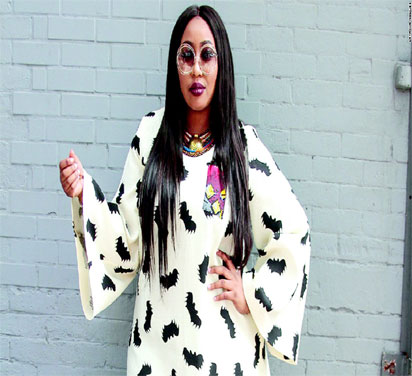 In this interview, the lifestyle journalist, TV host and social entrepreneur tackles issues concerning body size and urges plus size women to cherish their body.
You are helping plus size women feel positive about their body; what are the issues suffered by these people that inspired your platform ATCL?
This is like stating the obvious but let me draw up a list: unsolicited medical advice, watching many women talk themselves down from great opportunities because of the way they perceive themselves, seeing beautiful, talented women shrink away from life itself because they don't "fit" in.
But why you and why is plus size your concern; or were you at any point in your life made to think negative about yourself due to your size?
As a fashion journalist, I spent many hours writing and reporting on style, trends, fashion lovers, red carpets and runways.
As much as I enjoyed all that, I would get extremely excited each time I came across a plus size woman with great style and it simply meant I was starved of images that resonated within me. Nobody has ever made me think negative of myself because I know the greatness that resides within and I hold on tightly to that knowledge.
Why the fuss about plus size women in this clime in the first place when typically, an African woman should be big, round and even fat?
I disagree on that point because I do not believe we have a "typical" African woman. We have always been diverse in our looks even as just Nigerians; much less an entire continent.
African women have always varied in looks, build, shape, complexion, height and so on. Where some are petite and buxomly, others are slender and athletic and some are fuller figured with very full derrières, etc. What is now surprising is choosing just one and deciding that is the standard.
For health reasons, everyone is being advised to burn off some calories and shed some weight. Do you consider the health implications of being on the big side as you teach plus size women to be positive about their body?
Do you decide the health implications of a slim well dressed person every time they walk past you? Should the fact that everyone is being advised to   burn calories and shed some weight stop fuller figured women from putting their best foot forward when stepping out?
Shall we wear just gym wear until the day this mysterious "perfect weight" meets us along 3rd  mainland bridge? That my dear, is body positivity. Loving yourself through the journey and not waiting to get to the destination, whatever that might mean to whomever.
Is it possible to be plus size and still be healthy? If yes, what must be done regularly?
Although I'm not a doctor, I could suggest a few points. Have   protected sex if you are not in a committed relationship, drink lots of water, get a pap smear or check for lumps in your breast, eat plenty of fruits and vegetables and don't stress on things you really cannot change.
Even though this is Africa, our popular idea of beauty, judging by most beauty contests and models, is 'slim'. But as one who is well travelled, is the western media honest in its portrayal of western women as generally slim?
Do you mean the western world that produced and celebrates women like Oprah, Jill Scott, Melissa McCarthy, Ashley Graham, Gabby Sidibe, Octavia Spencer & Chrissy Metz? We have decided what we want to be a standard because Africans are not children.
The West does not teach us how or when to put food in our mouths or when to go out and earn a living. We have the opportunity to reflect our reality and I'm helping that conversation find its way to the table.
What's your take on designers and plus size creations? I notice they are not made with the same curves embedded in clothing meant for slimmer people; more like shapeless
I'm not the one to ask about why designers make shapeless clothes for plus size people. Maybe they slept off in that class or their fashion school fees didn't cover that module. I'm interested in the brands that have decided they want to create beautiful clothes for people who have basically had very few stylish options.
We have brands now like ASSIAN(for men) and for the women- MaBello, Aimanoshi, Nori Clothing, FIA factory, Ejiro Amos Tafiri and others.
What has been the impact of ATCL?
The penetration level has been astounding to me. We have followers from all over the world! You name a country; we probably have a follower from there and that is invaluable to me.
I've had women walk up to me and hug me saying because of something they read or a photograph they saw, they were inspired to wear a sleeveless top! I've had people tell me their confidence level has skyrocketed because of what we're doing.
People feel like they aren't alone and what Aboutthatcurvylife.com as well as its sister platforms – ATCL Collective and Pop Up Plus- do, has made all the difference. Participating at the Lagos Fashion & Design Week in 2016 was a major achievement in that we executed the first ever plus fashion presentation in the 7 years of that event.
We made history too recently in Ghana at the Glitz Africa Fashion Week, again putting the spotlight on plus size fashion. Going viral on platforms like CNN, Yahoo news, BBC and many others also probably helped spread our message.
To every plus size woman out there, what is your message?
Nobody has the power to make you feel any less beautiful or special than you are. You are worth it, the effort, the attention, the beautiful clothes, the princess feeling. Live your best life now.