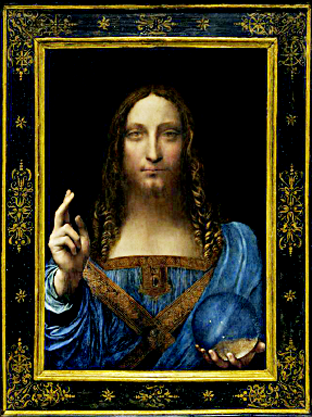 By OSA AMADI
This is probably the biggest irony of life: that the portrait of Jesus Christ by Leonardo Da Vinci who, from all available records, did not believe in God or Christianity, would become the most expensive artwork to be auctioned today in the world. Last week, Leonardo's Salvator Mundi (Saviour of the world) – a painted bust of Jesus Christ, was sold for $450.3 million at Christie's auction house in New York.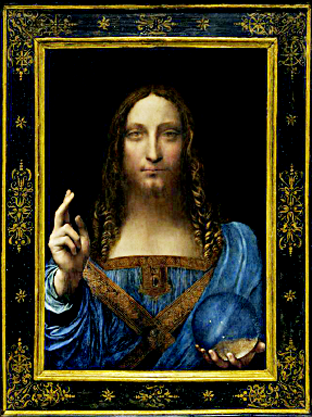 "During his life," wrote Paul Strathern in The artist, the philosopher, and the warrior, quoting Giorgio Vasari, "Leonardo did not believe in the doctrines of Christian faith until he may or may not have had to learn them on his deathbed." Vasari also described how Leonardo "formed in his mind a doctrine so heretical that he depended no more on any religion, perhaps placing scientific knowledge higher than Christian faith."
Dating back to about 1500, the rare painting, Salvator Mundi, is one of the less than 20 authenticated works by Leonardo in existence.
According to the Washington Post, the painting which was announced by the auction house as "The Last da Vinci," spent centuries in obscurity until it was rediscovered in 2005 and underwent a six-year restoration and verification process.  The small piece depicts Jesus raising his right hand in blessing and holding a crystal orb, meant to represent the world, in his left.
Over time, the painting has attracted scrutiny and a lawsuit.
Salvator Mundi had inspired a number of imitations. Over the years, art historians have identified about 20 of these copies, but the original seemed to have been lost to history.
At one point, it was part of the royal collection of King Charles I of England. It disappeared in 1763 for nearly a century and a half. In 1900, Sir Charles Robinson purchased the painting for the Cook Collection in London. But by then, it was no longer credited to da Vinci but to his follower Bernardino Luini.
In 1958, the collection was auctioned off in pieces, with "Salvator Mundi" going for a mere 45 pounds, which translates to about $125 today.
Then it disappeared for another 50 years until it resurfaced in Louisiana in 2005. There, for $10,000, New York-based art collector and da Vinci expert, Robert Simon, and art dealer Alexander Parish found and purchased it.
At first glance, Simon thought it was just another copy of the famed painting.
"It was a very interesting painting but it's not something I looked at and thought, 'Oh, my God, it must be a Leonardo,'" Simon told CNN. "The whole idea that it might be by him was almost impossibility; it's kind of a dream."
The piece was thick with overpaints, meaning artists had added paint to the existing image over the years as a means of either modernizing or improving it, probably to cover up chipped areas in the original.
Dianne Dwyer Modestini, a professor of paintings conservation at New York University, set about carefully restoring the portrait — which was still believed to be a copy — in 2007. She started chipping away at the varnish and overpaint obscuring the original, the beginning of a process that would take six years.
A strange feeling overtook her as she removed the first layer. For one thing, Jesus' curly hair looked strikingly familiar.
"I was looking at the curls and St. John the Baptist at the Louvre, who has this huge head are exactly the same," Modestini told CNN.
It began dawning on her. The last da Vinci painting discovered and verified was "Benois Madonna" or "Madonna and Child with Flowers" in 1909.
Modestini told Christie's. "I went home and didn't know if I was crazy."
A series of tests proved she wasn't.
A consortium of dealers including Simon, Parish and Warren Adelson sold the painting in 2013 for $80 million to a company owned by a Swiss businessman and art dealer Yves Bouvier, Bloomberg reported. Bouvier then flipped the painting the next year, selling it to Russian billionaire Dmitry Rybolovlev to the tune of $127.5 million — an almost $50 million markup.
If the dead do see, Leonardo who on May 2, 1519 at Cloux, France when he was dying, and had lamented to King Francis 1, that he (Leonardo) had offended God and mankind by not working at his art as he should have done, would be happy today seeing his Salvator Mundi break all artworks auction records.