The Minister of Information and Culture, Alhaji Lai Mohammed has urged young couples to be patient with themselves in order to have lasting and blissful unions.
The Minister gave the advice in Abuja at the wedding reception of his Police Orderly, Sgt. Lucky Moses and his bride, Sarah.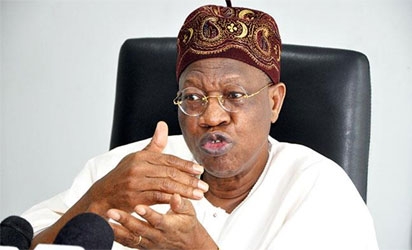 The Minister who was a guest of honour at the reception said the virtue of patience was key to peaceful and sustainable marriages.
He also enjoined couples to bridge communication gaps in their union in order to guide against third party interference and unnecessary provocations.
Buttressing his counsel with an anecdote, the Minister recalled how he and and his Medical Doctor friend were denied firearm licence because they were not married and not ripe to own guns.
He said: "About 40 years ago, I was doing my National Youth Service in Abeokuta, Ogun State with a Medical Doctor friend.
" Some of our friends who knew we were close to the then Commissioner of Police (CP) in the State approached us when they wanted to apply for firearm licence to allow them carry guns for safety.
"When we were about to leave, we also apply for firearm licence and we thought it was going to be automatic, given the friendship between us and the CP and the fact that I am a lawyer and my friend, a medical doctor.
"But to our surprise, our applications were turned down and we were told that we were not qualified.
"We asked ourselves, how can the CP said me, a lawyer my friend a doctor are not qualified for firearm licence whereas we recommended traders for same and he gave them.
Mohammed said they went to ask the CP why he denied their applications and whether they must obtain PhD before they could be qualified to get firearm licence.
"The CP said we were not qualified for the license and the only qualification he needed from us was that we must be married.
'Then we asked him what is the correlation between being married and having firearm licence.
"The CP said that until you are married you don't know what is called provocation.
"Your wife of 20 years can wake up one day and tell you – what have you ever done for me ever since I married you?
"If I give you a gun now and you quarrel with your girlfriend, you can shoot her.
"But after you have been in a marriage for at least five years and gone through the lessons of how to handle provocation, then you will be qualified for a firearm licence"'.
The Minister said that the lesson of his story was that "marriage is synonymous with patience and it is an institution that teaches how to control provocation".
He described his Orderly, the groom as "an extremely loyal, diligent and resourceful officer" and wished the new couple a successful union.
The Minister of State for Budget and National Planning, Mrs Zainab Ahmad, who was also at the event advised the couple to respect the sanctity of marriage and keep off third party from their union.
The Minister said Sarah, the bride, "is her trusted aide and Moses was lucky to have chosen her as bride".
Otunba Olusegun, Runsewe, the Director General of the National Council for Arts and Culture said no marriage is perfect and the couple must learn to consolidate their union with prayers, understanding and patience.
The Permanent Secretary, Ministry of Information and Culture, Ms Grace Gekpe enjoined the new couple to be prayerful and avoid third party interference in the union.
Earlier at the Solemnisation service at ECWA Church, Wuse II, the officiating priest, Dr Barje Maigadi counsel the couple on the "do and don't" of marriage and attributes of man and woman.
He cautioned the husband not to turn his wife to a punching bag while admonishing the wife to always control her tongue.