By Tare Youdeowei
BENIN CITY—THE Edo Forum of Patriots, a socio-political organization in Edo State has admonished leaders of the All Progressives Congress, APC, in Edo State to be wary of any action that tends to rubbish the name of the national chairman of the party, Chief John Odigie-Oyegun.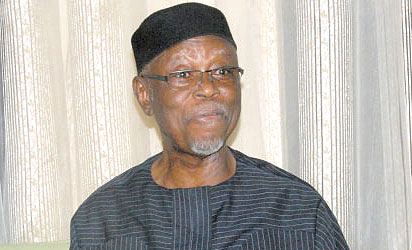 The group in a statement signed by its President, Aiyemenkhue Edokpolo, made available to Vanguard, noted that the former governor's political and moral mien has immensely discredited what it described as the unholy belief that an Edo man cannot climb up to the enviable strata worthy of all good citizens of Nigeria.
It said: "In his capacity as the Chairman of the ruling party, APC, he has broken the jinx and crossed the rubbicon by maintaining an articulate standard and prudence attributable to all leaders that carry the interest of the country at heart.
"It is on this premise that all well-meaning sons and daughters, especially the entire members of Edo Forum of Patriots have unflinchingly queued behind him as a way to send a signal to those whose stock in trade is to mislead the minds of people with innuendoes through the media and other paid agents to slander and discredit the character of the former Executive Governor.
"This publication in its intent and purpose is to forever silence the purveyors of deceit and to encourage all other would-be agents of doom to disregard their evil plan and embrace that which is right and good."
Chief John Odigie Oyegun is passionately playing his role as a leader and astute standard bearer of our collective aspirations for a sane and progressive nation.  Any attempt to smite a worthy Ambassador of our time is ignominious and unexpected.
"His present position in the helm of affairs in the APC is sufficient to high his score card for carrying all and sundry along in a volatile political arena such as ours in Nigeria. We wish to use this medium as an open door to truth and a clarion call to dear compatriots to support the good intention of the man that has continued to play his patriotic path in the quest for an imitable nation in the present global tussle for relevance" it stated.