By Chioma Obinna
With the commissioning of a N3.8 billion European Union – Support to Immunization Governance in Nigeria (EU-SIGN) in 23 states of the federation and the Federal Capital Territory, FCT, Nigeria is set to bridge the gap in routine immunisation and reduction of deaths of children of both the rich and the poor under five years.
Over the years, rejection, stock- outs, lack of will power to tackle infrastructural decay and corruption from the root, non-implementation of policies and insensitivity among health workers and office holders, have prevented millions of children from accessing quality vaccination, both in the rural and urban areas, leaving them either disabled physically or poorly prepared intellectually to add value to their communities and nation at large.   Some could not even celebrate their fifth birthday, no thanks to vaccine preventable childhood killer diseases.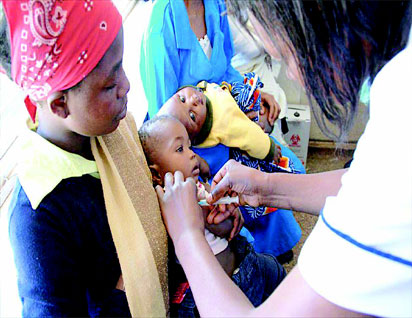 From the South to the North, the story is the same. Worst hit are children in the rural areas. Today, despite millions of dollars of vaccine supply chain investments by development partners and bilateral donors to address vaccine supply chain system challenges, Nigeria's public health supply chain continues to be ineffective, inefficient, fragmented and wasteful.
Existing state and donor driven supply chain interventions are inadequate and necessitate bold innovative approaches and complementary broad based partnerships to disrupt the cycle of poor public health supply chain performance.
Just last week, a new report by the World Health Organisation, WHO, revealed that 20.8 million children worldwide were still missing their first measles vaccine dose and more than half of them live in six countries, with Nigeria topping the list of countries with unvaccinated children from measles (3.3 million).
Also, a latest Multi Indicator Cluster Survey, MICS/ National Immunisation Coverage Survey, NICS, presented by the National Primary Health Care Development Agency, NPHCDA, also showed that Nigeria is still far behind the Global Vaccine Action Plan, GVAP, of achieving 90 per cent vaccinations of children between 12 and 23 months old.
To alter this trend and fulfil the dream of Nigerian parents to see their children grow into adulthood in good health, the European Union, through its Support to Immunization Governance in Nigeria (EU-SIGN) is tackling the infrastructural decadence which findings have shown remains one of the impediments to effective vaccination in Nigeria.
Their efforts were evident recently at the commissioning of Gui Primary Health Centre, PHC, in Abuja and other works and supplies valued at N3.8 billion to boost immunisation in 23 states.
The testimony and the smiles on the people of Gui community were glaring. Although, PHC is the first level of care in the health sector, but before now, communities like Gui are subjected to untold hardships and preventable deaths and diseases because their people are forced to travel far before they could access healthcare.   According to the district Head of Gui Community, Alhaji Alhassan Yusuf, it was a dream comes through for his people.       The overall objective of EU-SIGN project was to contribute to reducing sickness and death in children due to vaccine preventable diseases by ensuring quality routine immunization and interrupting the spread of poliomyelitis in Nigeria.
The EU –SIGN is to providing over 1,153 Direct Solar Refrigerators, 29 Four Wheel Drive vehicles, and construction of primary health care centres and renovation of PHCs in 24 states. Already, 1,400 health workers have been trained on immunisation practices and good governance.
The EU-SIGN project which began in 2011 as part of developmental strides of the union is to support the Nigerian government through the Ministry of Budget and National Planning to facilitate government efforts in reducing the burden of preventable diseases, eradicating polio and strengthening access to the primary health care system.
Some of the beneficiary states include Kano, Jigawa, Kaduna, Sokoto, Anambra, Katsina, Zamfara, Plateau, Edo, Rivers, Cross Rivers, Akwa Ibom, Ebonyi, Osun, Ogun, Gombe, Lagos, Kwara, Kebbi, Yobe, Kogi, Abia and FCT.
Speaking during the commissioning of the projects and hand over of the 29 vehicles to the focal states in Abuja, Mr. Ketil Karlsen noted that vaccine security is one of the key strategies of controlling communicable diseases and saving children's lives.
For him, efforts to increase capacities in the health centres will amount to little, if there are no sustained supplies of potent vaccines to give children and mothers and avoid problems of stock- outs at all levels.
He noted that the European Union support covers 24 states including the FCT in partnership with other international organizations like the United Nations Children Fund (UNICEF) and World Health Organization (WHO) which is aimed at delisting Nigeria from countries where polio still exists. It is a concerted effort that can only be achieved through working together
"The major focus of the EU-SIGN is to improve the implementation of policies on Primary Health Care, strengthening routine immunization and reducing morbidity and mortality of under- five children and to vaccinate against preventable and other communicable diseases", he said.
Continuing, he said the EU support has used both hard and soft ware solutions to tackle identified challenges in immunisation.
Karlsen explained that a functional vaccine distribution system together with effective supervision ensures disease prevention and reduces human suffering and death. "For the system to function efficiently, relevant government agencies need reliable communication and transport means. We hope the vehicles procured will go a long way from the states to improve vaccine distribution, enhance supervision, undertake disease surveillance and respond quickly to outbreak of diseases.
"Beyond the financial assistance for hard ware solutions, the EU is also concerned about the governance and management of health service delivery and the utilisation of available budgets in a transparent and accountable manner. We can assist in this area but the main responsibility lies with the Federal, state and local government authorities.   EU investments in health sector have also substantially decreased the incidence of polio in Nigeria such that we can now feel that polio eradication is within grasp," he added.
To the Minister of State for Health, Dr. Osagie Ehanire, the project is a major tool in pushing the primary healthcare agenda towards universal health coverage which is the primary focus of the administration of President Muhammadu Buhari.
On his part, the Executive Director of National Primary Health Care Development Agency, Dr. Faisal Shuaib, expressed the hope that as the programme is ending in January 2018, the European Union, all the all the Health Care Centres and logistic procured by the union would be sustained by the Federal Government and help in eradicating polio from Nigeria.