The National Coordinator APGA Media Warriors Forum, Evang Chinedu Obigwe has said that the last wish of Anambra State traditional rulers, opinion moulders and the generality of Anambra electorates for the November 18th election was to have a gentleman leader and not a motor park tout.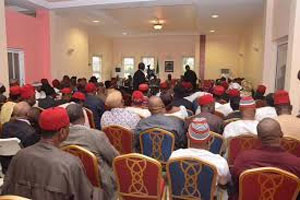 He made this known to newsmen on Wednesday via a press release issued to pressmen.  According to Obigwe, "Tony Nwoye lacks home training and he cannot differentiate between potable water, potable road and good roads network as a prospective Governor.
Reacting to Tony Nwoye Campaign Organisation's press release captioned 'Nwoye faults Obiano desecration of traditional institutions', Obigwe said that "traditional rulers as custodians of our traditions and royal fathers exercised their freedom of speech right by condemning unanimously the withdrawal of Governor Willie Obiano's senior security detail and that their actions are not being teleguided", he said.
According to him, "Tony Nwoye's inordinate governorship ambition that has been rejected by Anambra electorates has beclouded his sense of reasoning to the extent of usurping the powers of President Muhammadu Buhari with his Flagg off of construction work at the Nteje to Umunya axis of the Enugu and Onitsha express way.
"Sycophants around Tony Nwoye mistake his toutish behavior as an act of heroism hence the reason why he does not think twice before misbehaving in public.
"APC Governorship candidate desperation to acquire executive powers must be checkmated and nipped in the bud by Anambra electorates because he is on an evil mission in the State.
"Tony Nwoye's latest rigging antics is to incite the President against Governor Obiano with his fabricated and embellished tissue of lies.
"I advise President Muhammadu Buhari to ignore Tony Nwoye's rigging antics and ensure that the forthcoming Saturday November 18th election is devoid of rigging and favoritism.
"Anambra electorates are prepared to  chase election riggers like common criminals on the election day because of their firm resolve to leave no stone unturned in ensuring that there vote counts.
"My unalloyed confidence rests in the determination of Anambra electorates to vote for Governor Obiano's return to office for a merited second term and for the entrenchment of political sense of belonging in the State", he finally said.