By Josephine Agbonkhese
ANNUALLY, for every 100,000 live births in Nigeria, 630 women die. While the country has a maternal death rate second only to India, medical and social reasons are usually touted as the cause for these deaths rather than preventable factors such as poorly equipped health facilities and negligence on the part of healthcare professionals; hence, the consideration of such deaths as simply health issues rather than a violation of fundamental human rights such as rights to life and family life.
It was to change this perception and ensure such wanton deaths are litigated that a two-day training was organised for lawyers in Lagos by the Women Advocates Research & Documentation Centre, WARDC, in partnership with the Nigerian Bar Association, Ikeja branch, with support from the MacAuthur Foundation.
The training which groomed legal practitioners on rights-based perspectives in maternal health adjudication and litigation amongst others, according to the Founding Director, WARDC, Dr Abiola Akiyode-Afolabi, was designed to stir a greater appreciation of the legal implications of government's responsibility for maternal and infant mortality.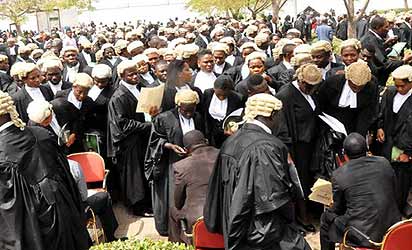 "Basically, most lawyers were not trained to see sexual and reproductive health issues as human rights issues. This perspective was missing from the law curriculum until recently. As such, older lawyers practising now were not taught this.
"Thus, this training will open up creative ways in which lawyers could litigate issues of sexual and reproductive health. By the time government and private health facilities know that for every death that occurs they have litigation in their hand, they will sit up," buttressed Mrs Emmanuella Azu, Legal Officer, WARDC.
Reacting to claims that Chapter 2 of the Nigerian Constitution makes reproductive health issues not justice-able, Akiyode-Afolabi argued that same is the challenge faced by lawyers in countries where reproductive health issues have been successfully challenged.
"Some of their chapters are also not justice-able. But these lawyers picked it up from right to life, right to non-discrimination and other rights which are also in our  constitution. So, what we are asking lawyers to do here is to begin to see sexual and reproductive health issues as human rights issues and litigate them creatively. We are not testing the law enough; we need to do more public interest litigation.
"For instance, some of the things that Gani Fawehinmi talked about in those days were not in the law. But he tested the law and that helped to strengthen the law," she said, adding that a training was also being planned for judges this October on the subject.
In his remark at the event which also had Rotimi Sankore and Prof.Ebenezer Durojaiye as guest lecturers, Yinka Faronbi, former Chairman, NBA Ikeja, underscored the role of lawyers in nipping maternal and infant mortality in the bud, reiterating that lawyers have the capability to instigate reforms that would tone down the nation's maternal mortality ratio if well sensitized.