CCNN, Unilever, Dangote Cement listed as stock to watch
By Peter Egwuatu
AS more companies' results are expected to be released this week, equity market activities on the Nigerian Stock Exchange, NSE, is expected to be stronger with mixed sentiments by investors, despite the decline in market indicators experienced penultimate week.
Financial analysts have predicted that amidst cautious trading, higher activity will spur the market as investors reactions will be influenced on earnings releases by companies.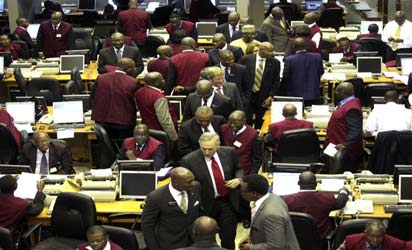 Accordingly analysts at Vetiva Capital Management Limited, a Lagos based investment house stated: "Amidst still-cagey market sentiment, we expect stronger activity this week as earnings season hits full flow. From this, we foresee a mildly bullish trading pattern as earnings are generally expected to be positive."
Commenting on stock to watch for the week, Vetiva analysts said: "Cement Company of Northern Nigeria, CCNN Plc, released its nine months, 9M'17 results, weekend, with Profit After   Tax, PAT, rising by 182 per cent to N2.0 billion, representing 68 per cent above Vetiva estimate. The stock rose 506 bases points, bps Friday to close at  N10.17, above consensus target price of  N6.99 and has returned 103 per cent Year to Date, YtD."
Analysts from GTI Research stated that CNNN has performed well, saying: "Revenue grew by 47.7 per cent compared to Q3, 2016 due to a hike in cement price late in 2016. This created more impact to revenue in the current result. The firm experienced a dip in its finance cost as a result of a reduction in debt profile."
Another stock to watch is Unilever Nigeria Plc, as analysts disclosed that its nine months results showed a jump in Profit After Tax, PAT, to N4.8 billion from N1.6 billion, representing seven per cent below Vetiva estimate. The stock currently trades at N44.00, above consensus target price of  ¦ 30.48 and has returned 26 per cent YtD.
For Dangote Cement, it reported a 37 per cent Year on Year, y/y rise in 9M'17 revenue to N604 billion, slightly lower than Vetiva estimates of N607 billion .
Meanwhile, despite a series of positive earnings released last week, the NSE All share index and shed 71bps Week on Week, W/W, recording its first negative weekly close in the month.
Specifically, the NSE All-Share Index and Market Capitalization depreciated by 0.71 per cent to close the week at 36,587.31 points and N12.594 trillion respectively.
Similarly, all other Indices finished lower during last week with the exception of the NSE Banking and NSE Pension Indices that appreciated by 0.03 per cent and 0.02 per cent respectively while the NSE Alternative Securities Market, ASeM Index closed flat.
Howevr, twenty-three (23) equities appreciated in price during the week under review, lower than forty-one (41) of the penultimate week. Thirty-four (34) equities depreciated in price, higher than twenty-three (23) equities of the penultimate week, while one hundred and fourteen (114) equities remained unchanged higher than one hundred and seven (107) equities recorded in the penultimate week.