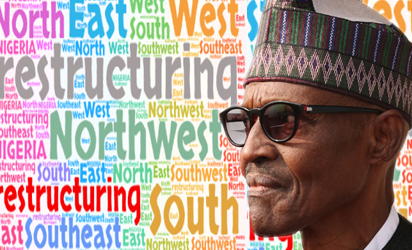 President Muhammadu Buhari
…I suspect restructuring advocates a both form of opposition—Adesin
…It's uncharitable to think restructuring 'll lead to disintegration—Odumakin
By Johnbosco Agbakwuru
ABUJA – THERE was sharp disagreement yesterday between the presidency and Governor Okezie Ikpeazu of Abia State as well as the spokesman of the Yoruba socio-cultural organization, Afenifere, Yinka Odumakin on the clamour for restructuring of the country and threat for disintegration.
Though the Special Adviser to the President on Media and Publicity, Mr. Femi Adesina said that the issue of restructuring was possible, he alleged that it appeared that those on the forefront of the agitation for restructuring were people who were in government for about 16 years and now using it to play opposition against the government in power.
Adesina also frowned at the threat of disintegration of the country when the issue of restructuring was mentioned, stating that the two had no correlation.
But the Publicity Secretary of the Afenifere, Yinka Odumakin took a swipe at the position of the presidential spokesman, saying that it was quite uncharitable for him to lampoon those clamouring that if the country was not restructured it could lead to disintegration.
On his own, Governor Okezie Ikpeazu said it was not correct to label those clamouring for restructuring as opposition to the government.
Adesina, Odumakin and Ikpeazu spoke at the 8th Annual Lecture Series organized by the Change We Need Initiative, in Abuja, which had the theme, ""Disintegration or Restructuring: Which Way Nigeria?"
In his remarks at the occasion, Adesina described the call for restructuring particularly from those who were in power for 16 years as suspicious, although he revealed that the present administration under the leadership of President Muhammadu Buhari was not opposed to restructuring but was opposed to anything that would lead to dismemberment of the country.
He said that the theme of the lecture was timely and that restructuring should not be associated with disintegration as was being insinuated in some quarters, adding that Nigeria had always restructured which had never led to the country falling apart.
According to him, "In the history of Nigeria there was a time where the various people and communities lived in this space that is today called Nigeria. And then, the colonial masters came, formed what is called the northern protectorate and southern protectorate, that was restructuring of what has subsisted.
"And then in 1914 precisely, the northern and southern protectorates were amalgamated into one country, that was another restructuring. Did it come with any saber-rattling or did it send the country into tailspin, no? And then we got to a point that we had regionalism in the country, the regions were formed and we begin to grow, that was another restructuring, it happened almost obtrusively and each region begin to work on its own pace.
"Eventually Independence came and we had parliamentary system at the beginning and we continue to grow. Today, we have a presidential system of government that is another form of restructuring from parliamentary to presidential.
"And then there was a time we had a unitary system when the then Gen. (Aguiyi) Ironsi tried to formalize through the unification decree. We have a unitary system which to a large extent still subsist in the country, is a form of restructuring. Don't forget there was a point in this country we had diarchy – President (Ibrahim) Babangida was at the center and the civilian governors were in the state, another form of restructuring. Did we disintegrate? No, we didn't.
"Nigeria has always restructured. There was a time we had 12 states, and then at a point it became 19 and then to 36 states, that is restructuring. Why must restructuring then be accompanied with saber-rattling, it is restructuring or disintegration, that is what I disagree with.
"Restructuring will come, this country will be renegotiated, restructured but then we will not disintegrate. I begin to get suspicious atimes that this call for restructuring is it another form of opposition? When you find people who have been in power for 16 years now be champions of restructuring, so I begin to suspect that restructuring is becoming another form of opposition in Nigeria.
"Nigeria l will eventually be restructured. This Government is not opposed to restructuring but the government is opposed to anything that will splinter the country.
"We will get to where we are going on restructuring and Nigeria remains one united indivisible entity. That is my thought. And from the first paper I have heard I know this issue will be dissected properly today and at the end we will come up with something that is pragmatic, something that is not emotive, something that is not knee jack, something that can take this issue and clamour for restructuring forward."
But in his response, Abia State Governor, Okezie Ikpeazu who was represented by one of his aides, Godwin Adindu, disagreed that restructuring was an opposition thing.
He said, "Restructuring is not an opposition thing, it is what we all need so that we can move the nation forward. Restructuring is not the demand of the opposition."
The Afenifere spokesman, Yinka Odumakin, also disagreed with Adesina that restructuring was an opposition thing.
He insisted that Nigeria's unity is negotiable warning that those kicking against it risk disintegration.
He said,"One hackneyed expression with which the restructuring calls have been met is the non-negotiability of the unity of Nigeria. Unfortunately, this expression misses the whole concept of nationhood. There is nothing that is sttled in the life of any nation. A nation is like any living thing that grows and therefore a daily dialogue.
"The unity of Nigeria can be negotiated. It is fallacy to say it can't be negotiated. By restructuring we are saying Nigeria should move from money sharing economy to a productive economy.
"If we refuse to take this national course, I'm sorry to say time is running out of Nigeria. Giving the level of agitations over the unjust of unitary Nigeria which we misname federalism today, it is clear that there are two options before the country. It is either we restructure or we disintegrate.
"Let us restructure Nigeria now, return to the Nigeria our founding fathers initiated. Our best is in the past. Let us join hands to build a Nigeria that we will all be proud of."
The guest lecturer Dr. Cosmas Ilechukwu, said restructuring will be good for Nigeria.
He said, "By restructuring I mean a reorganization of the governance structures of Nigeria to make it a more viable and more prosperous nation where the different nationalities will proudly call a home. Any construct that will occasion greater Effie cy and economic viability will be okay. The six regional structures that seem to have gained reasonable mileage among a large segment of our population should be constitutionalised.
"I will support the call for a six-regional arrangement with some minor readjustments.
"Apart from a few dissenting voices who would prefer the status quo, the people of Nigeria seem to have achieved a reasonable consensus on the necessity and timeliness of restructuring. What remains is for us to achieve similar consensus on the modality the restructuring should follow.