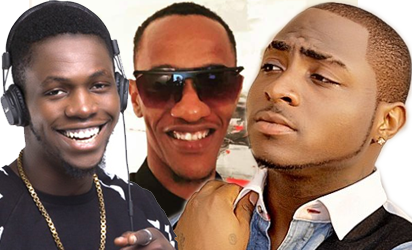 Tagbo Umeike, DJ Olu and Davido
By Evelyn Usman, Joseph Undu, Juliet Ebirim & Hannah Oyelere
LAGOS — The Police in Lagos, yesterday, confirmed that Afro hip-hop artist, David Davido Adeleke, was being interrogated over the death of his friend, Tagbo Umeike, following the discovery that his statements were laced with untruths.
Davido, during investigation, reportedly told the investigative team at Lion Building, Lagos Island, that he was not at Shisha Bar, from where the deceased was rushed and dumped at the Lagos Island General Hospital. He, rather, said he left the bar for DNA Night Club in Victoria Island area of the state, where he was informed about Umeike's death.
However, while briefing newsmen on the update of the investigation yesterday, the Commissioner of Police, Lagos State Police Command, Imohimi Edgal, disclosed that preliminary investigation showed that late Umeike was rushed to the hospital on David's instruction.
Consequently, David was invited for interrogations.
Davido was at the Command's headquarters yesterday, in the company of his lawyer.
From there, he was moved to Lion Building at about 5p.m., where he was still being quizzed at press time.
This is just as Tagbo's family, yesterday, released a statement signed by one Mrs Equi Araka, saying there is more to his death.
The event of Oct 3
Edgal explained further: "At about 9.20a.m. on October 3, the Chief Security Officer of Lagos Island General Hospital alerted the Divisional Police Officer in charge of Lion Building that an unidentified male was brought in dead in an ash-coloured Toyota Camry car with number plates LSD 738 EL.
"The victim was alleged to have been brought in by two unidentified males.
"The DPO rushed to the scene and identified the victim as Tagbo Umeike, from the international passport found in the car. Shortly after, one Caroline Danjuma, an actress and the victim's fiancée, published on her Instagram page that her boyfriend died in the company of some friends, among whom was Davido.
"I called for a meeting with family of the deceased, Davido's family, Davido, Caroline Danjuma, including the DPO, Lion building, and the investigative team.
"The meeting established that the deceased, Tagbo Umeike, met and had drinks with friends among who was Davido, at Shisha Bar. The bar attendant confirmed that he (deceased) had 40 shots of Tequila and exhibited clear signs of drunkenness.
"The CCTV footage, which I called for, showed that the deceased was quarrelsome and violent in that meeting. Davido confirmed that he left Shisha Bar without the deceased to DNA Night Club and that he was only informed of the victim's death at the club.
'Davido lied'
"However, investigation revealed that Davido's white Toyota Hilux escort driver, Tunde Usutu, accompanied by one Agbeje Olaoye and one Idris Busari, both Davido's friends, took the deceased to the General Hospital and abandoned him in his vehicle on the instruction of Davido.
"The CCTV footage at the hospital picked the escort vehicle and the entire activity. The vehicle was recovered from Davido's residence at 7, Awoshika Street, Lekki Phase 1. This completely debunks Davido's claim that he did not know how the deceased got to the General Hospital.
"The interim autopsy report stated that the victim died of asphyxia, which means suffocation. At the end of this fresh round of investigation, I will tell Lagosians our findings."
Police on DJ Olu's death
Edgal further said a case of sudden and unnatural death was reported by the Chief Security Officer of Banana Island Ocean Parade, Ikoyi, on October 7, to the Divisional Police Officer that two persons—Olugbemiga Abiodun of Flat Bill, Ocean Parade, Banana Island, Ikoyi and Chime Amechina— were found dead inside one white-coloured BMW Saloon car with number plates KJA 631 AY, at an underground garage in the estate.
"Police operatives raced to the scene, where the bodies of the victims were taken to LASUTH, Ikeja, for joint medical examination by the Police and doctors to identify any possible mark of violence and autopsy."
During a visit to Lagos State Teaching Hospital morgue, where DJ Olu's body was deposited, Vanguard learned that his body has been taken to Ebony Vaults, Ikoyi, for burial.
Tagbo's family's  statement
Meanwhile, the family of Tagbo, in a statement last night by Mrs Araka, expressed dissatisfaction with stories about his personality, adding that they believe there is more to his death.
The statement read: "We, the family of Tagbo Ifeatuchukwu Umeike, received the shocking news of the passing of our brother on October 3 at about 8:55p.m., several hours after his demise.
"Since his passing, there have been several stories making the rounds, especially on social media, regarding Tagbo's personality and the circumstances concerning his death.
"For a family that is trying to come to terms with the passing of their loved one, some disparaging and unfounded comments and statements about his personality and life, especially from individuals who did not even know Tagbo, have been received with a lot of sadness.
"Tagbo looked out for everyone and had a big heart; he was a friend to all and loved by many. Evidence received so far suggests that there is more to his death and we, as a family, will ensure that the truth regarding the circumstances of his passing will be brought to light.
Lauds Lagos CP
"At this point, we will like to thank the Lagos State Police Force, led by Acting Police Commissioner, Imohimi Edgal, for their diligence and professionalism in carrying out their investigation.
"We are pleased to say that we now have a clearer picture of the events leading up to Tagbo's untimely demise. As it is an ongoing investigation, we are unable to disclose any further information, but suffice to say the truth will come out!
"We would like to kindly ask that the print media and blogs covering this story refrain from printing hearsay and fabrications and stick to the facts, while respecting that the family is grieving."
Davido reacts
Meanwhile, reacting to the developments on Snapchat yesterday, Davido said: "My heart is rare and the world knows! Please God, keep my heart the same! Please don't give me a change of heart Lord! I shall remain a giving being, amen!
"Lies everywhere… Due to respect for Tagbo and his family, I haven't spoken about the issue since. Soon, a statement and footage will be released. Enough is enough. God bless you guys! Everyone be safe please.
"Bloggers una go soon tire."