…Paid 3bn to DESOPADEC
…To appoint next DESOPADEC Commissioner from Udu
…To complete Udu Harbour market
By Akpokona Omafuaire, Warri
WARRI – THE Delta State Governor, Dr. Ifeanyi Okowa will present the 2018 appropriation bill before the Delta State House of Assembly tomorrow (today) just as he has promised to appoint next DESOPADEC Commissioner from Udu.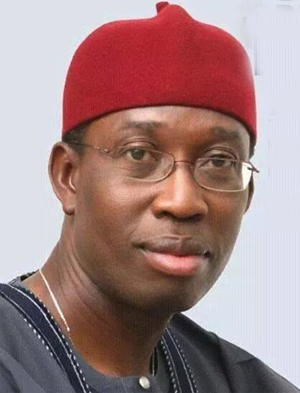 The Governor made the revelation yesterday at Otor-Udu, headquarters of Udu local government area during a town hall meeting with the Udu people.
According to the Governor Udu will benefit more from the 2018 appropriation which he wants to present.
"The next Commissioner for DESOPADEC will come from Udu, so no one else should put me under pressure for that position.
"I released money for the completion of the Udu Harbour market but I am disappointed at the slow pace of work.
"I will appoint more Udu people in line with the request made by the Udu king. The blowing up of the Forcados export line affected our allocation.
"But with the restoration of the line, things have improved and DESOPADEC got 3billion from last month with which contractors were paid."
Okowa also stated that he is set to complete the Aladja/Isaba road and call for the warring communities of Ogbe-Ijoh and Aladja to restore peace.
The Governor said that the road had been in the budget but because of the crisis no contractor was willing to move in to work.
He also called on the Udu people to maintain the existing peace, just as his government has plans to take over the DSC primary schools.
Earlier during a visit to His Royal Majesty, Ohworu I, Ovie of Udu promised the Governor that Udu people are solidly behind his government.
The monarch calls for government to act quickly to end the crisis between Aladja and Ogbe-Ijoh.
The Governor before visiting Aladja has dashed to Ugbokodo to inaugurate and monitor the vast fish farm which he had set up to empower youths of the state.
At Orerokpe town hall meeting with Okpe people, the Governor revealed that the reason why many local government council has not been able to pay salaries was due to over bloating of the workforce ith redundant and ghost workers.
He said that efforts are on top gear to prune the workforce by identifying and eradicating ghost workers which is already yielding fruits.
He assured the Okpe people that his government is ready to deliver more dividends of democracy and call for more support.
The Governor also promised to complete the Plan bridge and road within a reasonable time
Okowa urged all Deltans to maintain the existing peace and development will thrive in the state.