Lagos – The Nigerian Breweries Plc has rewarded distinguished Journalists with N6 million cash prize at the 9th Edition of the Nigerian Breweries Golden Pen Award.
The 2017 Nigerian Breweries Golden Pen Award was held on Friday night at the Eko Hotel, Lagos, and it was entitled: "Agriculture, Local Sourcing and Industrial Development".
The Managing Director and Chief Executive Officer of the company, Mr Johan Doyar, said the award which was launched in 2009, was to promote the practice of Journalism in Nigeria.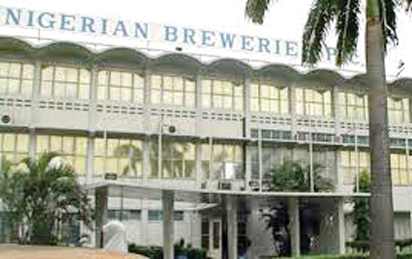 Doyar said that this year's theme had a lot of potentials and also had the key source to development.
"It is our hope and expectations that the media will draw attention to the sections of the economy to agriculture; it is important to acknowledge the role of the media in national development.
"Nigeria is a land of talents and we believe in it passionately," he said.
The Deputy Governor of Lagos State, Dr Idiat Adebule, represented by the Permanent Secretary,Deputy Governor's Office, Mrs Yetunde Odejaye, commended the Nigerian breweries for its consistency in sustaining the award.
Adebule said that the award would promote objective news reporting and project Nigerian media as patriotic institutions.
She also lauded the media for supporting the initiatives of Nigerian Breweries over the years.
"The theme of the award is apt and timely; the media has a role to play in directing the attention of these stakeholders to the role that agriculture brings toward the nation's economic recovery, food security, employment opportunities and poverty reduction.
"In diversifying the economy, agriculture holds the four aces; it is the way forward, it has the potential to grow our economy and contributes significantly to the gross domestic products," the deputy governor said.
The Chairman of the Panel of Judges, Dr Yemi Ogunbiyi, said the entries for this year's award were an improvement over the past years.
He lauded the efforts of Nigerian Breweries at sustaining the award and commended the Nigerian media for its unrelenting efforts to set an agenda for the good of the Nigerian people.
The Nigerian Breweries Reporter of the Year cash prize of N2 Million, was given to Isioma Madike of The New Telegraph.
Madike's work ,"Shongan Farm: The dream of Zimbabwean White'', an investigative piece, earned him the award.
The 2nd runner up for the Nigerian Breweries reporter of the year, Mr Caleb Ojewale of The Business Day was given N750,000, while the 1st runner up, Mr Arukaino Umukoro, of the Punch Newspapers went home with N1 million.
In the Photo journalist category, the overall winner, Olatunji Obasa also of the the Punch Newspapers got N1 Million; first runner up, Jubril Sulaimon, of The New Telegraph got N750,000, and second runner up, Toluwani Eniola 0f the The Punch Newspapers, got N500,000.
The winner of the Nigerian Breweries Golden Pen Report of the Year, Mojeed Alabi, of The New Telegraph, received N1 million.
All the winners in all categories got an iPad and a Plaque, each. ((NAN)