…Says:I'm ready to fly
Ex-winner of Project Fame West Africa season 8, Jeff Akoh was in the spotlight  during the week, after he held a listening session for his debut album, "Lokoja", to announce his readiness to hold his own in the country's music scene.
The listening session, which was held at the head office of Temple Management Company,TMC,  in Victoria Island, Lagos, was graced by a few industry operators including DJ Jimmy Jatt, Iyanya, ex-BBN housemate, Bisola among others. But the event was more of an in-house thing. It was a cool evening blended with music, fun and entertainment. After the guests were seated and ready to be thrillede by Jeff, Idris Olorunnimbe, CEO/ Founder, TMC, took the floor, introducing Jeff  and other artistes who are signed to their  newly established music subsidiary, Temple Music Limited.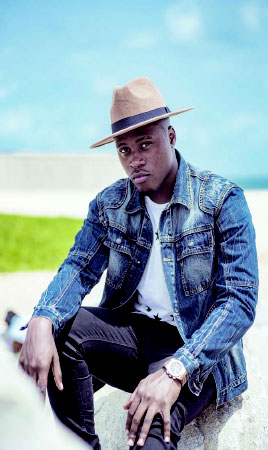 Jeff flagged off the evening by highlighting the "teamwork" that went into the album, taking the guests, however, through the story that is behind  each of the songs in the album.
"Lokoja", a 16 track album, officially released yesterday internationally across all digital stores, as the singer's 21st birthday gift.
The album is the creative brainchild of Nigerian entertainment powerhouse, Temple Management Company (TMC) through its music subsidiary, Temple Music (TMPL) and foremost American showbiz company, Roc Nation.
Jeff Akoh dazzled judges with his amazing voice and showmanship in 2015 to emerge as the best singer in West Africa. He is the youngest to win the popular music reality show, Project Fame West Africa. Arising from his triumph, the Kogi State-born singer has been tipped to leave a big mark on the music scene.
Ahead of the album release, there has been anticipation among lovers of good music with the singer's previous release two hot tunes, Shokolokobangoshe and Gbadun (Your Lovin).The new tunes have been enjoying massive airplay across the country. Some of the excellent songs in the album such as "Tojue", "My Girl" ,' Samba" and  "Shokolokobangoshe" were co-written by Tayo Adeyemi and renowned producer,  Cobhams.
In Lokoja, Jeff Akoh's vocal dexterity is matched with experience of household names in music production including Cobhams Asuquo and TY Mix. The talented Temple Music singer also worked with UK-based group, Team Salut, Oscar and Benie Macaulay.
Jeff Akoh's versatility shines through as he experiments with several exciting music genres like RnB, Reggae, Pop, Afro-pop, Afrobeats and House.
According to Jeff, "For me, Lokoja has been a rewarding journey coming from Project Fame West Africa. I must recognize Ultima Limited for laying the foundation. The title says it all. Lokoja is a confluence where several rivers meet. Likewise, my album is the product of different influences that music lovers will appreciate. Please don't take my word for it."
In a chat with Sidebeat, Jeff said he's ready to fly, after it took him two years to stamp his foot on the sands of time. "I took me about two years after I won project fame reality TV show.  At first, I was projecting myself because we are in a very competitive industry. I just have to come out  100% so that my impact can be felt on the industry," he said.
Jeff said, while he won the Project Fame reality TV show , he knew wasn't ready to face the industry.
"This is because I haven't carved a niche for myself in the industry. I was 18 years when I won the competition. I wasn't ready but right now, I have been able to carve a niche for myself," he added.
Also speaking, Mark Redguard, Head Of Entertainment, TMC, noted that Lokoja is more than just an album but is also a statement. He said,