By Obadiah Mailafia
THE person of Jacob Zuma, current President of the Republic of South Africa, came into the news in our country in connection with the erection of a life-sized sculpture by the restless Imo State Governor Rochas Okorocha. That gesture has drawn a lot of flak at home and abroad.
Within Nigeria, the social and print media have been awash with commentaries. I will sample only a few. Professor Chidi Odinkalu, former Chairman of the National Human Rights Commission has noted: "The statue was unveiled on the day the Supreme Court (of South Africa) reinstated the corruption charges against President Zuma.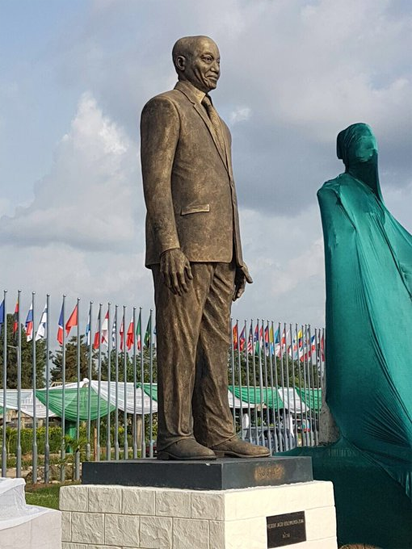 Ironically, in Owerri dialect, Zuma means continue stealing…" I may also wish to remind Chidi that Zuma in the Hausa language actually means honey. The man may thus at once be a robber baron and a honey pot.
Austin Osakwe, a Benin-based public affairs analyst was of the view that "the governor's latest act indicates his poor understanding of the intricate act of diplomacy and statecraft. Only recently, many Nigerians were brutally murdered by the rampaging South Africans in a frenzy of xenophobic outbreaks".
Ndubuisi Osuagwu, an academic at the University of Calabar notes: "There cannot be any justification by a governor that presides over a state that has no internal roads to embark on such a project. I understand that the cost of erecting the statue runs into several millions of naira.
How can Rochas Okorocha spend that kind of money erecting a statue of the president of a country that is presiding over the killing, frustration and harassment of Nigerians? Most of those who are facing this ugly situation in South Africa are from Rochas Okorocha's Imo State."
Sir Truelove Njoku, Patron of the Igbo Community Association in Kwara State, sternly observes: "Naturally, when a sane person is in a financial crisis, he or she should exercise financial restraint and prudence. But this is not so with Imo State and its government….a statue for a saintly Mandela would be uncalled for, let alone for the (current) President of South Africa, Jacob Zuma, who has been tagged with many corrupt charges at home…."
There are many forces out there that want to pitch Nigeria and South Africa against each other. I am one of those who deeply believe that our two nations need not be caught up in some kind of binary titanic rivalry for continental hegemony.  On the contrary, I have always made it clear to whoever cares to listen that our two nations ought to be the engine and locomotive of African  integration. The example of France and Germany in Europe is relevant here.
From the very beginning, the rapprochement between Charles de Gaulle of France and Konrad Adenauer of what was then West Germany was the foundation of post-war European integration. To this day, the two nations are the central pillars of European unification. They have the final word on whatever happens in Europe.
Nigeria and South Africa are bounded by destiny to play a similar role in Africa. Nelson Mandela did not particularly warm up to Nigeria because he said he was ostensibly disappointed by our corrupt leaders and our failure to live up to our promise of greatness.
His successor Thabo Mbeki was definitely better for Abuja-Pretoria relations, perhaps aided by the fact that he spent some of his most formative years as ANC representative in our country.
When Olusegun Obasanjo and Thabo Mbeki held the incumbencies of the High Magistracy in their respective countries our relations were at their best. Both leaders had a deep rapport with each other. They were the only two leaders who could rein-in Muammar Gadaffi's excesses within the African Union. The two leaders were the principal architects of the New Partnership for Africa's Development, NEPAD, which articulated a new vision for Africa's transformation in the twenty-first century.
For far too long I have held back from writing anything that is derogatory about Jacob Zuma. There is no doubt that he came under persecution as Mbeki's deputy when made clear he was setting his sights on the ultimate price. Mbeki was deeply convinced that he did not have the intellect or personality to be President of South Africa.
He therefore placed all sorts of stumbling blocks on his path. It had the opposite effect. Jacob Zuma became the underdog. He drew the sympathy of the masses, and particularly youth leaders like Julius Malema, leader and founder of the radical Economic Freedom Fighters, EFF, party.
In 2005, he was charged with rape but was soon acquitted.
Unfortunately, after he was sworn in as president in May 2009, it soon became clear that he had immense deficits both in character and intellect. He was charged for corruption and racketeering as a result of his links with his financial advisor Schabir Shaik in April 2009. He illegally committed state funds for the renovation of his palatial home, Nkandla, in Zululand.
I was in Johannesburg in late September 2009 when his appeal trial came up at the Supreme Court in Bloemfontein. Ever the dramatist, Zuma donned Zulu war regalia, including leopard skin and all, singing the liberation war song, "mishimiwami".
I suspect that the entire court was overwhelmed by the thousands of youths that surrounded the courthouse.
Jacob Gedleyihlekisa Zuma has been a disaster for South Africa. A man who has been charged for rape, corruption, fraud and racketeering certainly is unfit to lead such a great country. He is definitely not in the same  league as Thabo Mbeki, not to talk of Nelson Mandela. He has brought nothing but disgrace to South Africa.
The economy has been in near-collapse; investors have fled in droves; crime has been on the increase, and with it murderous xenophobia and random nihilistic violence. It is no wonder that the international ratings agencies have downgraded the country, compounding the challenges of development and growth.
Rochas Okorocha showed the lowest point of his sense of judgement in erecting that ill-thought sculpture.