By Chinonso Alozie
Owerri – The Imo state House of Assembly, said it has dethroned a traditional ruler, Eze Basil Iguegbe of Agbobu Autonomous community, in Okiqwe Local Government Area of the state.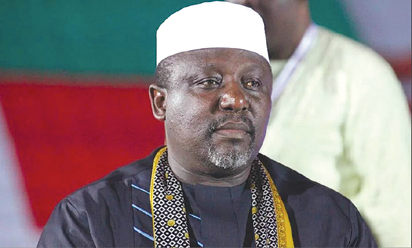 The House disclosed this in a release made available to newsmen, Monday, in Owerri, through Mr Speaker, Acho Ihim, Chief Press Secretary, Marcellus Ekwezuo.
The House claimed that the dethroned traditional ruler son was involved in "misconduct". This was even as the House approved for Odinaka Kennis Chidoka as Iguegbe's replacement.
The release stated: "The State House of Assembly was irked by Eze Iguegbe's apparent complacency in the nefarious misconducts of his son in and around Agbobu autonomous community
"Including the unwarranted twin kidnap of the peace loving Eze Ugbaja of Amaosu autonomous community and a four year old Favour Ike, a kindergarten when the lad was on his way home from school on February 21, 2013 among others.
"The house unequivocally explains that it was unheard of, unfathomable and indescribable that a traditional ruler of former Eze Basil Iguegbe's status could allow his own son to use his official car number plate to beat security check points, use his compound as a hideout for kidnappers and even see his fellow traditional ruler and his subjects kidnapped by his son for pecuniary purposes as alleged.
"The state house of Assembly said the dethronement of Eze Basil Iguegbe will serve as a deterrent to other traditional rulers and people in various positions of authority and their children on how to behave well while in office.
"Eze Basil Iguegbe's lineage have perpetrated sacrilegious acts and have lost their claim to the throne to their alleged profanity.
"The house of Assembly, therefore ordered for the immediate presentation of Agbobu autonomous community's Eze – Elect, Odinaka Kennis Chidoka to Okigwe Local Government council for recognition and replacement of the dethroned Eze Basil Iguegbe."