…How he became Obiano's propaganda in chief
Harris Chuma  Eze Omenani is a Nollywood film maker with many years experience and many films in his kitty. But he has metamorphosed over the years from that film maker to a culture exponent, organizing Ogene Ndigbo film festival across Nigerian cities, Igbo Film festival, Igbo Beauty pageant as well as becoming Eze Ndigbo Nollywood.
The Ogbunike Anambra state born politician joined APC in Lagos and became a major supporter of the party until 'push became shove' and he had to relocate to push APC from his home state.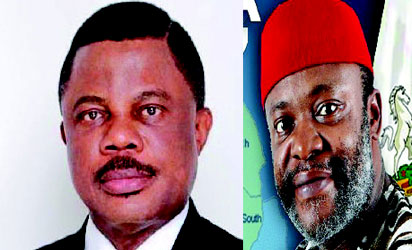 As the build up to the Anambra state guber election started, Chuma eyed the Governorship ticket and started his campaign earnestly even before the obtaining of forms.
At that time, his main target was Governor Willie Obiano who is battling for re-election.
Chuma had deployed all his propaganda armament on Governor Obiano that no day was complete without garbage being hauled at him.
He had employed all his writing talents and his social media suaveness in Whatsapp, Facebook, Twitter  and Instagram to blast scathing criticism on Obiano including no government presence in Ogbunike where his wife hails. Chuma's bombs continued to rain non stop until a meeting which changed everything.
All his contacts on all platforms rose one day to read with shock that he had dumped APC and joined APGA apparently denouncing all he had said about Obiano in the past. Some drama, you may say. Obiano is now messiah… and ally. Many have tried to speculate on how much Chuma  was paid for hibernating where his bread is now being well buttered.
There may really be no need for all that because he earns the accolade as Propaganda in chief of the Obiano administration's re-election bid firing from all cylinders.
Chuma has many facebook, watssapp and twitter and instagram pages and groups using it very judiciously in favour of Obiano and APGA. And he writes with ease, churning out sensible, logical and radical and audacious points of view in favour of his principal
With his Independent Media Support Organisation, Chuma continues to churn out releases upon releases to cite Obiano's achievements and throw darts at his opponents. He even spearheaded the publishing and launching of a book on Obiano written by his friend Ngozi Emedolibe aside from holding several events for Obiano's wife.
In a chat Wednesday, he said "I  agree I am Obiano's propagandist but very positively so. I owe no one any apologies for doing so.  I speak the hard truth. I have strong belief that Chief Willie Obiano will definitely be re elected due to his excellent performance in the past three and a half years.
What he did his predecessors couldn't do in areas of security, economy and infrastructural development. Obiano would definitely return to Awka Government House come November 18 because Anambra people are not blind".
On why he dumped APC, Chuma said he could "not be working for a party that is anti Igbo.  I have no regrets dumping APC for APGA. Non at all. It is the party that promotes the welfare of Ndigbo in Nigeria".
Subscribe for latest Videos