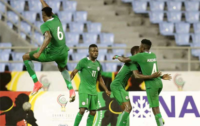 WAFU Eagles
Ghana coach Maxwell Konadu has turned his attention to the derby clash against Nigeria today after his side booked an early semifinal qualification berth at the 2017 WAFU Cup of Nations.
The Black Stars edged the Eagles of Mali 1-0 at the Cape Coast Stadium on Saturday,, to make it two straight wins in Group A as they maintained top spot.
Midfielder Winful Cobbinah scored a superb goal in the 73rd minute after cutting onto his left foot on the right wing before slamming in powerfully past goalkeeper Diarra Djigui from 22-yards out.
Speaking after the match Konadu insists that he was going to play his best side and down Nigeria in their last Group A match despite having already qualified for the semifinals.
"We started well against Mali but it wasn't the best, but we managed to sail past our first opponents Gambia, then Guinea and now Mali," said the Black Stars coach.
"Coming to the Group stage, we managed to play better than we did in the first match and today again against Mali the boys proved that they are a very difficult side to beat.
"They did their best for us and we can only thank them and urge them on to keep pushing.
"Now that we have qualified already we know how to meet Nigeria. We know matches between these two countries are always very difficult.
"So we are going to approach that match with all seriousness. I think we will use all the arsenals we have to go past Nigeria. We know they are a very good side."