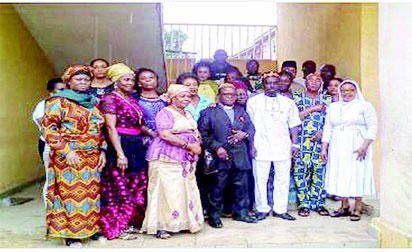 3rd right, (front) ASOHON, grand patron in Southeast zone, Mr. Godson Akpulonu, leader of ASOHON in Southeast zone, flanked by members from the zone, during their zonal meeting in Owerri. Photo: Chinonso Alozie.
By Chinonso Alozie, Owerri
ORPHANAGES operators in the Southeast zone, have unfolded plans to nip in the bud the child trafficking activities in the zone.
Speaking to Southeast Voice in Owerri, under the  Association for Homes and Orphanages Operators in Nigeria, ASOHON, the grand patron, Mr. Godson Akpulonu, said that the end to child trafficking has come.
Akpulonu, also warned members of ASOHON to follow the legally acceptable procedures in running their homes or face the law. To achieve their aims, he also said the association had engaged the Police to identify those using the name of ASOHON as cover to commit child trafficking.
According to him, "The Association for Homes and Orphanages Operators in Nigeria, ASOHON, is concerned and saddled with responsibility to stop child trafficking in our society. To this end, the association is in partnership with the security agencies and other stakeholders in this struggle to wipe out these atrocities. Having taken a number of measures in the recent past towards this determination, we are not relenting.
Inhuman activity
"Therefore, we deem it necessary, as a follow up to organize a summit in the Southeast to fashion out more ways and means to effectively combat this deadly and inhuman activity called child trafficking. Also we are working with community leaders, as well as the state governments to protect the rights of vulnerable children.
"Part of our plan is to provide shelter, training, education, as well as succour and medication to the orphan and we are not relenting about it. What we are against is people using orphanage homes to do illegal business. It is also good that we remind you that our summit coming up soon, will be used as an opportunity for all the stakeholders to come together and garner ideas that would effectively put an end to  this problem. Importantly, the corporation of the security outfits in the country have a lot to do to make this whole thing a successful activity," he said