…As Emmanuel laments lack of federal presence in A/Ibom
By Emmanuel Ayungbe & Chioma Onuegbu
UYO—VICE President Yemi Osinbajo, weekend, pledged Federal Government commitment towards the timely completion of Ibom Deep Sea Port project in Akwa Ibom State.
Vice President stated this at the Godswill Akpabio International stadium after commissioning live touching projects to mark the 30th anniversary celebration of the creation Akwa Ibom State.
He disclosed that the Federal Government has made provision in Nigerian Port Authority, NPA, and 2017 budget for the development of Ibaka Deep Sea Port.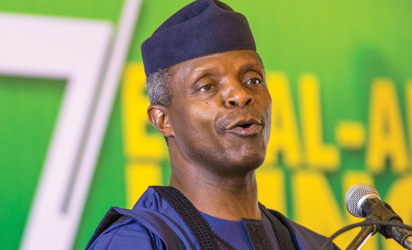 He said that the Federal Government was prepared to enter into partnership with any state of the federation for the purposes of development.
Prof Osinbajo advised Nigerians against breaking the bond of brotherhood and peace that had existed in the country for decades.
He said: "Citizens everywhere should not sit idle when misguided elements recklessly destroy the common bond of brotherhood and friendship that has put us together for decades.  Peace is the foundation of enduring prosperity, for peace to reign everywhere in Nigeria all of us as Nigerians all must make necessary sacrifices."
This came as Governor Udom Emmanuel of the state expressed disappointment over the lack of federal presence in the state despite its position as the largest oil producer in the country.
He also lamented failure of the Federal Government to refund the money owed the state over so many years for the construction of federal roads in the state.
Governor Emmanuel stated this yesterday at Uyo Township Stadium during the interdenominational thanksgiving service to mark the 30th anniversary of the creation of the state, saying  "Akwa Ibom as the largest oil producer does not have even one depot, Akwa Ibom as the largest oil producer has no refund on money spent on federal roads constructed here and no single federal presence.
"Every single development you see in this state today is instituted, initiated and finished up by our good leaders God had given us in this state."
So today we have come to thank God for our state, and we should note that every good and perfect gift comes from God. The state is a good and perfect gift because it is a state named after God."
Members of the Federal Executive Council that graced the thanksgiving service were Senator Udoma Udo Udoma Minister of National Planning and Budget, and Minister of Finance Mrs .Kemi Adeosun.