By Emeka Anaeto, Business Editor
The Director General/ Chief Executive, Nigerian Tourism Development Corporation, NTDC, Folorunsho Coker, in this interview points the way forward to modern tourism industry for Nigeria. Excerpt.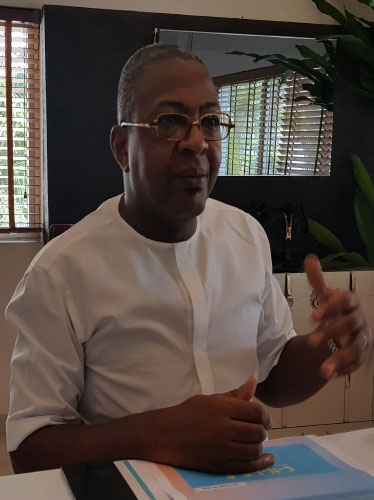 LOOKING at the tourism industry in Nigeria from the point of view of an insider, what is your general assessment?
In Nigeria, we have some traditional forms of tourism that have not been invested in; therefore, the returns from them are constantly dwindling. They are also seen as leisure community activities that are not income-generating or taxable.
That's why the business aspect of it needs to be refocused. In Nigeria, we are also lucky, apart from having this cultural heritage- destination tourism, we also have over the years been able to develop new medium of cultural expression that has come to even dominate in the world.
If you look at our music- a few days ago I was in Toronto, there was a protest march and they were playing Korede Bello's 'Godwin' and singing to it. I had to come out of the car. It was unbelievable. Our fashion is very strong. Our film is number two in the world. I went to Toronto International Film Festival- it is a business. Film production is a big business globally. The film festival is a business on its own and that is where tourism again needs to look at all these new mediums of cultural expression and start to define them as businesses.
Tourism asa business
The Zuma Film Festival in Abuja needs to be like the largest film festival in Africa since the largest business in Africa resides in Nigeria. Something is seriously wrong in terms of how we define our tourism assets and how we use them for business. If you look at sports, we are a sports-loving nation,   particularly football. I challenge you to turn on your TV set on Saturday in Nigeria, you can watch La Liga, you can watch EPL, South African football and all that but you cannot watch Kano Pillars; Iwuanyanwu National play or any local league for that matter.
Again, if you look at tourism as a business, it will compel us to look at certain things. Why is there so much money in EPL and how many people are watching this EPL in England? How many people are in Europe and are watching La Liga? How many South Africans are there? Why are their leagues so globally strong? Television! People want to watch it on television. Television focuses on them and as television focuses on them, advertising becomes a very significant thing. Television focusing on sports allows advertising to come in; allows the revenues that we need and the sports stories to also grow.
What is the place of branding in Nigeria's tourism business?
Before going into that, let me quickly say this: One of the areas we have problem in Nigeria is- even when we get something right, we don't know how to sustain it. Even where Chief X makes money, we don't know how to transfer it to the next generation.
How many millionaires of my father's days were able to manage the money to successfully transfer it to the next generation? That also has to do with branding. It is about branding and consistency in improving consumption.
Now, if you look at the logo of NTDC, it looks like a military detachment regiment somewhere, but look at the rest of the world- South Africa, Singapore, Croatia, Bangladesh, Malaysia- you can see how friendly, warm and engaging they are. So, one of the first things I did was to look at the brand NTDC as a master brand and created a sub-brand called TOUR NIGERIA, simply in line with the Coca Cola principle that for me to create an emotional connection with our Nigeria, by a Nigerian and for a Nigeria, I needed to create something that was simple and fun.
Why 'Tour Nigeria'?
First of all, the focus of NTDC is on domestic tourism. Domestic tourism is simply the only sustainable form of tourism that you can ever get. It entails using what you have best in your home, locality, region and in your country. It is the only form of tourism that can withstand shock. For instance, when they blew up an aircraft coming out from Egypt, people still go to Egypt. When they shut up a shopping mall and killed people recklessly in Kenya, people still go to Kenya. It is because they have a strong domestic tourism industry that the international tourism can set up, one that is a shock absorber, but allows the growth of the international.
Domestic tourism, because it is local, strengthens our establishments- our hotels, if we consume more of our hotels, our restaurants, tourism heritage sites, and our tourism events here, you find out that it will become stronger. It is when it is stronger that it also strengthens the institution- the government, the agencies, the taxation that come off it.
It is only within that structure that eventually the international bodies will be looking and say this is the ultimate; we want to generate billions of dollars. But if we don't take it as a business, if we don't invest in it; if we don't set the right policies to drive it, we cannot expect to reap the yield that we are looking for, and the rest of the world being able to partake in.
Is there any relationship between a country with youthful population and a successful tourism industry?
Our population is over 180 million. It is the densest concentration of black people in the world. It is the most populous country in Africa. If you look at our demographics, we are also large in the middle because we have the age bracket 18-35 that makes up the bulk of our population. This group is digitally connected; they are the socially mobile and they are a productive workforce. Add that to whatever infrastructure we have, to arts and culture as we have it; to entertainment as we have it; we have an opportunity to accelerate the development of tourism because all our needs and assets are already existing. It is not like manufacturing where you have to go and get the machine, the labour and all those things to start to build.
Serious income earner
It is not like agriculture where you will need to go and get the land, till the land, plant your seed, wait for it to grow and harvest and take to the market.    All we need is already in existence in group of manageable structure for tourism to become a serious income earner for Nigeria. So, after rebranding, we "Tour Nigeria". "Tour Nigeria" is a very simple brand that we created to focus on our domestic tourism agenda. We also created the acronym called 'CHIEF'.
It is a 5-point action plan. C- Stands for corporate governance and regulation; H – for human capital development; I – for Infrastructure development; E- for events and marketing, and F- for finance and investment.
Now, what I am trying to do in NTDC is to put NTDC through this 5-point action plan. In terms of corporate governance and regulation, we've been through first and second reading at the public hearing to try and repeal the old bill which was set up in 1992 and enact a new bill so that we can bring the policies that govern tourism into 2017 and the next 10 years. If we don't change the regulatory framework or the legal backing, we cannot hope to grow tourism the way we want to do it.
In terms of regulation, right now 36 states are setting 36 different standards in terms of hotels, in terms of grading, etc. So, the international community that we want to attract cannot take the grading standard of a hotel in Zamfara and a hotel in Lagos and say this is an internationally acceptable standard. Nations, national agencies set standards and grade hotels that are internationally recognisable not individual states within a federation of states.
Human capital development – Tourism is driven by a digital medium. Today, most businesses are driven by digital medium. Now, with a large population of digitally-connected individuals, we must embrace technology. If we don't embrace technology, we cannot hope to, for example, take the message out and potentially reach two million people on Facebook or several millions on Instagram.
Human Capital development on appropriate training, not just training like we have been used to, but training in the new mediums and new technologies that help you market with the same prowess as Jumia or Wakanow or Konga.
Embracing technology
Infrastructure development – I'm glad to say that Nigeria has the infrastructure but they need to be developed; especially in the tourism industry, infrastructure is either not in the right hand, not being driven properly or moribund and we need to look at it holistically.
What do we have and as a business how can we use this better? How can we use the Tafawa Balewa Square (IBS) better? How can we use National Theatre, Abuja Stadium, National Stadium in Lagos; Football stadium in Akwa Ibom – how   can we use all these better? What do we need to put around Abuja stadium to make it work- a hotel?
Do we allow all league matches to be played free of charge there? What will happen if we do that? Will the population of the North Central of Nigeria collapse temporarily into Abuja for certain things, thereby countering the population imbalance we have between the Southwest, the North central to the axis  of the North East?
Events and marketing – we need to look at what events we have. At NTDC, we have created a January to December calendar of events that allows people to plan. If you look at the football league in England- you know that Manchester United is going to play with Chelsea on the 4th of June next year at Chelsea's ground. It is fixed. It allows hotels, transporters to plan, and it is in that planning that you get the acceleration of wealth creation. Again, it is a business. Then we will have one platform anchoring other events.
Again in marketing, the promotion has to be digital.
Today, nobody leaves home without their phones. So, it is the medium we reach maximum number of people. If you look at your WhatSap messages, the stories we all share among ourselves on a daily or weekly basis – it tells you what people are interested in. It is either about fashion, food, religion, music, film or politics. If you look at your last 20 messages you will see that they fall into the above mentioned categories.
May we know some of your programme projections in the short and long terms?
We have mapped out some of the things we are doing at NTDC in the short to medium and long terms. In terms of corporate governance, we are continuously interacting with stakeholders in the tourism industry. Change is here and tourism is not going to be excluded from that agenda. Whether we like it or not, certain things must change for us to move forward. We can grow money or we can earn money. If we treat tourism like a leisure activity we will continue to earn money. If we treat tourism as a business we grow money. If we invest in infrastructure specific to tourism that grows tourism, we will reap multiple benefits from it.
Whether government is APC or any other; whether I am the DG NTDC or any other person else, it continues to flow. We are also using the digital platforms – social media, the internet, to make presence of NTDC known. We have 'Tour Nigeria', which is the hash tag and is on Instagram, Facebook and Twitter, We have our website  -tournigeria.org.ng  where we are hoping to put a lot of positive images about our country to reverse the negative conversations about Nigeria. There have been lots of challenges simply because people would always want to resist change.
Again, some people have not just taken the time to understand the law. One of the things that people are agitating the most about is about the registration and regulation and grading of hotels. In any country in the world where tourism is treated as a business and the values they get from it are real, there's an external body responsible for it, but because of the Supreme Court's ruling, states have been granted the power to so do, but those states will never get international recognition for it because they recognise countries, they don't recognise the components of countries.
The President's order on ease of doing business in Nigeria has benefitted us in being able to get visas and access to some other things. It is not perfect yet, but it has started to yield good fruit; it will continue to get better. We are hoping that NTDC will be the steering agency for all tourism-related activities. We must take tourism seriously as a business, if we treat it otherwise, we cannot get the revenues we are hoping to get from it.