By Egufe Yafugborhi & Akpokona Omafuaire
AGBARHA-OTOR— BISHOP of Ughelli Diocese of the Anglican Communion, Delta State, Rt. Rev. Cyril Odotemu, has said that remarkable wealth and legacy of Michael Ibru could go into oblivion if the surviving heads of the extended family fail to sustain the unity and discipline upon which he founded the Ibru dynasty.
The Bishop spoke, yesterday,  at St. Andrew Anglican Church Agbarha-Otor, Ughelli North Local Government Area of the state, during the first year memorial service in honour of the late patriarch of the Ibru family, Olorogun Michael Ibru.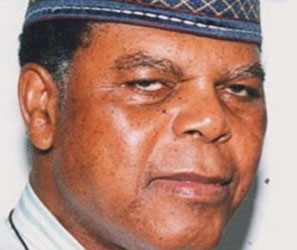 Odotemu told the Ibru family, "I thank the Ibru family for presenting Urhobo in the right perspective as the burial was the most peaceful one. That was possible because of the ability to tolerate one another, I thank the family for also supporting the Church.
"In the history of Urhobo, I have not seen anyone who got wealth and spread it like Ibru. He lived a righteous life, his wealth can be sustained if there is unity, love and tolerance.  But the wealth can be wasted overnight if you engage in litigation and end up in Supreme Court. You should allow Michael to rest in peace. If you can conquer self and look his life as a mirror, the sky will be your starting point."
Bishop Odotemu advised Goodie Ibru, current head of the Ibru dynasty, that "The world is looking up to you for the unity of the family. It is not an easy task, sharing wealth, but I urge you all to depend on God. Increased your prayer lives, because the world is looking at you."
Responding, Goodie noted that shortly after the memorial service, he was the head and unifying factor and kept the family together as  "He (Michael) did a lot for us all."
On taking charge as head of family, Goodie said, "I see it as a challenge and  an opportunity. It is difficult to step into his (Michael's) shoes, but it is an opportunity to build on his legacy.  There is no family without a challenge because everybody perceives things in his or her own way. You cannot take that out of a family, especially a large one like ours.
"The idea is to build consensus of what people want. There are bound to be differences, but we dialogue. I believe in the unity of the family and united we must remain."
Present at the event were Prof. W. S. Ibodje, Prof. Onigu Otite, Olorogun Macauley Ovbagbedia, Otota of Olomu Kingdom, Princess Grace Ojakovo, Mrs. Victoria Agodo, Madam Tobi Odunayan, Olorogun Emmanuel Aguariavwodo and a cross section of Agbarha, Olomu chiefs and several staff of the Ibru Organisation.