As Imam Sudais weeps
The theatre of absurdities in Burma, is a matter of concern not only for Muslims all over the world but every reasonable homo sapien.  As long as real blood runs in your vein, these killings which can be described as genocide of the decade must stop.
Last Friday, at the Masjid Haram, Makkah, Imam AbduRahman Sudais who led the Jumat prayer used the first half of his sermon on the killings and persecution of Muslims in Burma.
In an emotional laden sermon, Imam Sudias wept profusely over the killings of Muslims for no offence other than that being Muslims. As hundreds are being massacred, women raped, children killed, thousands of others have fled. He charged Muslims on unity, adding that with unity, speaking out to condemn this atrocious act is our duty as Muslims to other Muslims in persecution.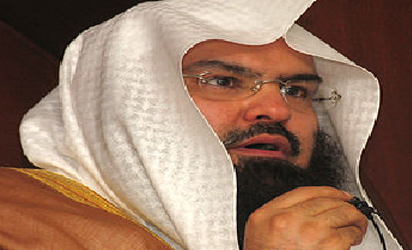 More than 500 people have been killed since clashes broke out last month, while over 400,000 Rohingyas have fled to neighbouring village. The manner of killing of minority Muslims in that part of the country is nothing but beastly, the zenith of callousness, horror of the highest order.  Even the most wicked of the animals will not display such atrocious cruelity.
Yet the world, the Media and governments particularly neighbouring countries have maintained a stupefying silence over the matter. United Nations and other Human rights groups
A couple of videos shared on whatsapp were worrisome, men were made to dig their graves, pushed them inside, poured inflamable on them and shot them thereafter. Women were raped, killed, children slaughtered. Those trying to flee the attacks are being shot dead, just as the lucky ones among them will have to find a path in dangerous pondy areas, to navigate out of danger.
Other videos show mass beheadings of children and sexual violence against women and girls.
Since World War II they have been treated increasingly by Burmese authorities as illegal. Rejected and unwaanted just because of their faith, the current atrocities only demonstrate their continuous suffering.  A Muslim ethnic minority of about 1.1 million people continually suffer discrimination and violence from other sectors of Burma who are predominantly Buddhists with a population of more than 52 million people.
The government of the day has also shown where it belongs. The prodigious attitude and body language of Myanmar's civilian leader, Aung San Suu Kyi, was instructive.   Surprisingly, ironically too, the Nobel peace prize laureate who was a famous defender of human rights and darling of the West has refused to act in the right direction for fear of loosing her political base, allining with the majority Buddhists. The Burmese Buddhist Nationalist leader got overwheming support from her Buddhist brethren.  Besides, the Buddists see the Rohingya Muslims as not part of them, but Bangladesh.  Before now, the Rohingya Muslims were denied freedom of worship, free movement or access to education while government forces intermittently attack them for no offence other than being minority Muslims.
Let us speak out, in our various mosques and gathering, let us hold rallies to bring greater awareness and attention to the plight of persecuted Rohingya Muslims, let us act as one. They dont have advocate in Burma, they are also being rejected in their homeland, just because they are Muslims. Remember, the Prophet said a Muslim is a brother to another Muslim. We can only be true brother if we offer ourselves to help.
FOMWAN reacts
Meanwhile, the Federation of Muslim Women's Associations in Nigeria, FOMWAN,  has expressed shock over   the wanton killings and massacre of Muslims, calling on world leaders to speak out, condemn the killing and act to save lives of the Rohingya Muslims.
"FOMWAN hereby enjoins well meaning world leaders to condemn the current violent killings going on in Rohingya, and appeals for Peace. We appeal to Muslims all over the world to exercise restraint, and pray fervently unto Allah to bring succour to those helpless Muslims under persecution wherever they may be on the globe. We call on world leaders to speak up now. The present silence of notable world organizations like the UN, UNICEF, OAU, –  (Muslims and non Muslims)  on the persecution currently going on in Rohingya is not in the best interest of humanity.
"Presently many families have been shattered, many husbands killed, women and children slaughtered out of mere hatred. Let it be here categorically affirmed that the current failure of world leaders to act now, to save lives and bring an end to the violence in Rohingya, is dangerous. The response gotten by the Rohingya Muslims has been described as disproportionate –  wiping out whole community, burning houses and killing several Rohingya Muslims is closer to genocide than anything else.
"FOMWAN appeal to Nobel Peace Laureate, Aung San Suu Kyi, to use her power and authority, through which she used to preach, that earned her the global recognition as "…an unflinching defender of human rights" to come to the rescue of women and children who are most hit by the current massacre.