Enugu – Renowned scholars from some higher institutions have called for good governance, accountability and re-balancing of the federation, saying they remain essential ingredients for national integration and peace.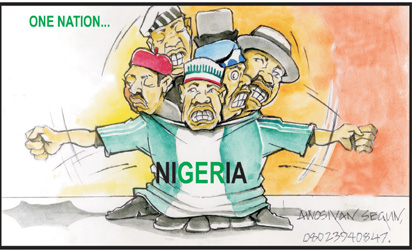 The scholars made this known in a communiqué issued on Tuesday in Enugu after a conference of some eminent academicians organised by the African Heritage Institute (Afri-Heritage) in Enugu at the weekend.
They stressed the need for evaluation and re-evaluation of the ideas of true federalism and accountability to ascertain their impeccability.
"No idea is so sacrosanct to be above questioning. Therefore, the idea of Nigeria's unity can be examined and re-examined to arrive at the best option.
"Nigeria must settle for a truly balanced federation in all ramifications of that concept,'' they said.
The academicians further stressed the need for proper restructuring to create a sense of belonging in Nigerians, saying "it is highly necessary now''.
"There is an urgent need for proper restructuring and change and to entrench peace and national integration,'' they noted.
The communiqué said that the problems facing Nigeria were too important to be left to politicians alone.
"The scholars have a vital role to play in ensuring that the lines and details of the debates and policy are focused appropriately, hence the need for the conference.
"Nigeria is a seriously divided country. Regrettably, there are tremendous divisive pressures everywhere.
"It seems that Nigerians are often so focused on the things that divide them that they are unable to identify and appreciate the things that bind them,'' the communiqué quoted the scholars as saying.
The News Agency of Nigeria (NAN) reports that Prof. Elochukwu Amucheazi, a renowned Professor of Political-Economy, University of Nigeria, Nsukka (UNN), was the keynote speaker at the conference.
Prof. Okwudiba Nnoli, a Professor Emeritus in Political Science Department in UNN was a major contributor to the theme and Prof. Ufo Okeke-Uzodike, the Executive Director of Afri-Heritage gave a welcome address.
The conference was themed: "Peace Building and National Integration: The Political Economy of Separatism''. (NAN)