…NEMA sends 7 trucks of relief materials
…As Atiku donates N5m for victims
By Peter Duru and Omeiza Ajayi
The flood ravaging parts of Benue State, yesterday swept through the home of Governor Samuel Ortom, washing away about eight bridges and culverts, submerging close to 50 huts and houses and rendering about 200 persons homeless in Guma Local Government Area of the state.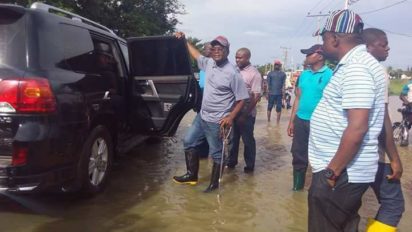 The flood which came as a result of over seven hours downpour in the area submerged two major bridges on River Guma at Tor Kpande and Mande Ortom, where the governor personally killed a Puff Adder snake in the flood water.  Farmlands and food barns were also not spared in the affected communities.
The disaster also left the newly constructed Daudu-Gbajimba, and University of Agriculture Makurdi roads impassable after several portions of the roads were washed away by the rising flood waters, the worst to be recorded in the area after the 2012 flood disaster.
The worst hit communities include Tse-Adorogo, the governor's village, Tse-Igba, Tse-Akor, Tse-Terzar, Tse-Abi, Tor Kpande and most of the villages on the stretch between Federal University of Agriculture Makurdi and Gbajimba, the local government council headquarters.
Governor Samuel Ortom who undertook on the spot assessment of the disaster lamented that the level of destruction in the affected communities were overwhelming.
While expressing worry over the number of farmlands and food storage facilities that were washed away the governor lamented that the state might be faced with serious food shortages since most of the rice produced in the state came from Guma.
"Apart from the hardship the disaster has inflicted on the people, the farmlands and food barns that were washed away by the flood gives everyone reasons to worry over looming food shortages in our state", he said.
He stated that two camps had already been opened in Makurdi to ensure that the displaced persons had shelter and also received assistance.
Meanwhile, following the presidential directive, the National Emergency Management Agency NEMA has dispatched seven trucks of relief materials to support persons affected by the flood in Benue state even as the former Vice President, Alhaji Atiku Abubakar made a personal donation of N5m for the victims.
Spokesperson of NEMA, Mallam Sani Datti, in a statement said, "as an emergency response, seven 30 tons truck have been dispatched to the state and are due to arrive Makurdi on Friday, 1st September, 2017.
NEMA's Director General, Engr Mustapha Maihaja has also ordered a reinforcement of another contingent of humanitarian officers headed by Director (Search and Rescue), Air Commodore Paul Ohemu from the Headquarters in Abuja in addition to the officers of the North Central Zonal Office in Jos, to deliver immediate humanitarian assistance to the affected persons in the various locations and assess the situation for further supports.
Also, the former Vice President, Atiku Abubakar described the flood as a harrowing experience and urged all Nigerians to support the victims as he donated N5m towards the relief efforts for the victims
A statement issued from his media office quoted the former Vice President as encouraging the flood victims to "stand firm as all Nigerians feel their pain and share their suffering."