DAVIDO baby mama, Sophia Momodu, and plus-size actress, Eniola Badmus are currently on a warpath on SnapChat and this unhealthy development has given many a serious concern, especially because both women are best of friends, and Eniola is Davido's bestie.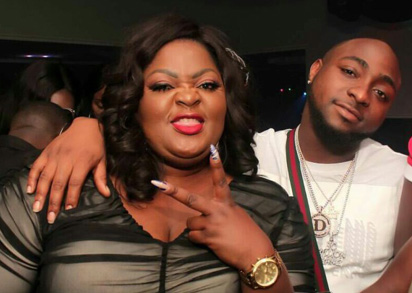 The face-off started after Sophia took to her SnapChat to contemplate what she would have for dinner. She noted that she already had some Dunkin' Donuts for dinner and considered having another fancy doughnut from Krispy Kreme same night. Shortly after, Eniola fired the first shot, mocking her for going for the cheap snacks.
"Dunkin' Donut? What happened to Red Lobster, Olive Garden, even Apple Bees?" the actress asked and added, "You're better reckoned with Popeyes. Dey still gat wedges for munch. #BobssLadiesPayBillz"
Perhaps, the actress was simply teasing Davido's baby mama who did not find it funny as she launched an attack on the actress, body-shaming and even, slut-shaming her.
"How you gon be salty cause I eat whatever the f…ck I want and you can't hoe," she began her tirade. "I have wayyy too many responsible people in my life. They won't let me put this fat, salty hoe in her place. Always talking about people and stay kissing their ass. Fool!"
"Boss ladies don't beg for love," she continued, referencing Eniola's comment about 'boss ladies', and added, "They don't beg for D!ck either. Sit you cellulite ridden ass down and be humble."
Seeing the damage she has done to their friendship, and perhaps realising that Eniola was only teasing her earlier, Sophia quickly erased her rants and dropped a new post, saying she was not referring to the actress.