By Ola Ajayi
IBADAN—FORMER Oyo Sate Governor, Senator  Rashidi Ladoja, has described the recent coronation of 21 Obas by Governor Abiola Ajimobi as a mere theatrical display that cannot stand the test of time.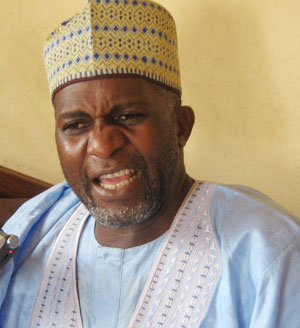 Faulting many sections of the recommendations submitted by the Justice Akintunde Boade's Commission of Inquiry, High Chief Ladoja said the government was allegedly being fraudulent by jettisoning several sections of the recommendations.
Ladoja, who is the Osi Olubadan of Ibadanland, said this at the weekend when speaking with newsmen in his Bodija residence.
The ex-governor and the Olubadan of Ibadanland, His Imperial Majesty, Oba Saliu Adetunji have vehemently opposed the coronation describing it as desecration of the traditional institution of Ibadan which had been rancor free for donkey years.
He wondered why the government should assemble people who are not Ibadan indigenes to change the chiefs law made by Ibadan people and purely for Ibadan.
He said, "It is not the responsibility of government but that of Ibadan people to tamper with the 1959 declaration. They tried to mislead the people that it was 1957 declaration but they have now realized that it was in 1959.
It is only Ibadan people who can change their laws when they think it is necessary. We don't have Olubadan of Oyo State, we have Olubadan of Ibadanland. Why should you bring somebody from Ibarapa, Oyo, Ogbomoso and Oke Ogun to come and review the declaration. We told them. Everything that is being done pertains to the declaration that concerns Ibadan people."
He also expressed surprise at the hasty nature that the coronation and presentation of letters and staffs of office was done.
"Why did they start it after work on Friday and ended it on Sunday. They distributed letters under flood light on Friday?. What they have done to me is just a theatrical display and I don't attach any importance to it," he said.
While stressing that he is not fighting Governor Ajimobi as being speculated by people, he explained that it was the government that he had issues with.
He added that some of the reasons he gave to justify his action was that he is going to Ogbomoso after finishing that of Ibadan.
"It means all those baales of Igbo Elerin and others that are with Soun today will become Obas. And after that he will end it up in Oyo. He just wants to destroy the institution of traditional rulers in Oyo state. He says he sees no reason why high chiefs in Ibadan who are also kingmakers will become Obas and Oyomesi will not become Obas. It is not only Ibadan or Oyo he's tampering with, he is going throughout Oyo State."
…Denies setting up Adio Commission
Wondering where the government got the information from, he stated that he never set up any commission to look into the issue of obaship.
"It is not true. I said it many times that I did not set up any Adio commission. I did not see it as a priority at that time. What I saw then was the improvement of education. I think the institution of obaship is so complex and it was better to leave it and face other things.
''In the case of Ibadan, there was no rancour. I still emphasise it that I did not set up any Adio Commission. I don't know any Adio. It is likely the governor is being misled. Is Adio alive. If he's alive, they should go and ask him. He should tell me the date where and when they were sworn in."
Government is selective in obeying court order
"The local government election in Oyo State is not conducted because there are cases in court and the House of Chiefs was suspended in 2011 because there is a case in court. This time around, there is no case in court?, he asked sarcastically.''