Happening live as Nigerian army, again, invades the home of the leader of the Indigenous People of Biafra, IPOB, Mazi Nnamdi Kanu, with  armoured tanker. Members of IPOB are seen in the video blocking the street leading to Kanu's house while soldiers are seen parading the area.
Read also: Breaking(Photos): Thousands of IPOB supporters head to Kanu's home as army lay siege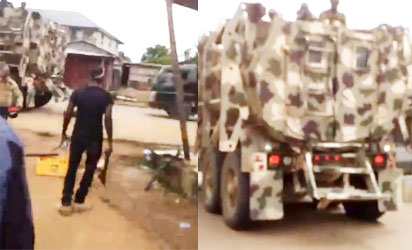 A battalion of soldiers is seen in the area while an armoured tank is stationed in front of Kanu's home.
What do you say? Type your comments below: