.Your Comment not Wrong, but its Timing -Party
By Omeiza Ajayi
ABUJA – The ruling All Progressives Congress APC Thursday summoned the Minister of Women Affairs and Social Development, Hajia Aisha Alhassan over comments regarding her political allegiance ahead of the 2019 presidential elections.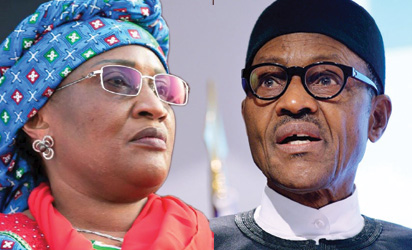 This was as the party said the minister has apologised to it over the comments which it said were not well-thought out.
The minister who arrived the national secretariat of the party at about 1:45pm was ushered into the office of the National Chairman, Chief John Odigie-Oyegun where discussions were held behind closed doors.
The minister had recently stirred the hornet nest when she granted a media interview where she pledged her unflinching loyalty to a chieftain of the party and former vice president, Atiku Abubakar rather than her boss, President Muhammadu Buhari.
Vanguard understands that the party had been slow in weighing in on the matter especially as the Buhari-led presidency had not really taken a position on whether to punish the minister or not.
The minister who was grilled for over two hours later left the secretariat at exactly 4pm in a brown jeep, marked Kaduna DKA 536 AA.
Though she declined speaking to journalists on the reasons for her visit and the outcome of her meeting with the chairman, Vanguard gathered that the minister actually restated her earlier position on who to support in the 2019 presidential elections, explaining that the president had promised to go for just one term.
It was gathered that the party viewed her outbursts as an embarrassment especially as the president has a right to go for a second term.
"The party felt the minister could have expressed her views 'within' and not to the public, because it came as an embarrassment to the administration but there is no provision for sanctions and we can only just caution her going forward", said a top source.
However, confirming the essence of the meeting, spokesman of the party, Bolaji Abdullahi who saw the minister to her car said, "Yes, the party invited her and she has come".
"Since the issue of the comment she made came up, the party has not said anything regardless of what individuals may have told you because we are a party that recognized the right of her members to express their opinions or views. We also had an opportunity to discuss with the minister to understand what she said and in what context she said so before we know how to respond. So, when she came, we asked her to explain to us what truly transpired and in what context she said what she said and she did offer these explanations. Now, having offered her explanations, we acknowledged that as a member of this party, she is entitled to her opinion and she is entitled to her choice. However, as a senior member of this party, her statements represent an act of indiscretion because with the kind of position she occupies even within the party, she is a party leader in her own right, what she said was not what she was supposed to say at the time that she said it; that she ought to have exercised greater judgement than she did and she acknowledged that yes, maybe she ought not to have…maybe the timing was wrong and she apologised that if she had put the party in any difficult position, she apologised.
"I want you to take note of the fact that nobody is questioning her right to take the position she has taken. We have not come out to say, 'why are you saying you are supporting this person?' she has a right to her choice and to support whoever she wants to support afterall she is not saying she supports a member of another party but what we are saying is that with the position she occupies, she ought to have exercised greater sense of discretion and better judgment knowing that making that kind of statement would definitely create some other situations for the party, if not for the government.
On whether the party asked her to resign from the cabinet, Abdullahi said: "No, that did not come up. What we just said was that we understand the context in which she said what she said but it was an act of indiscretion for someone occupying the position she is occupying in the party to make that kind of statement. If this was 2018 and the people have filed their applications to say they are contesting and she now comes out and says she is supporting this person, how can that be an issue? But we are still in 2017. We are still far away. Atiku has not said he is contesting. He has not collected any form. He has not announced to anybody that he is contesting. So, that is what we mean by the timing. It is not that she had no right to say what she had said".
In an earlier interview, Chief Odigie-Oyegun had said; "The decision, whether our President will run for a second term, is a decision only President Buhari can make, and he will make it at the proper time. For now, he still has nearly two years of painful, strenuous reconstruction of the Nigerian economy and all the other promises he made both in anti-corruption and on security is still serious work in progress. At the proper time, he will decide, and at the proper time, the APC will decide and the public will know".
The minister in an interview with the Hausa Service of the BBC had reportedly declared; "Atiku is my godfather even before I joined politics. And again, Baba Buhari did not tell us that he is going to run in 2019. Let me tell you today that if Baba said he is going to contest in 2019, I swear to Allah, I will go before him and kneel and tell him that 'Baba I am grateful for the opportunity you gave me to serve your government as a minister but Baba, just like you know, I will support only Atiku because he is my godfather. If Atiku said he is going to contest. If because of what I said, I am sacked, it will not bother me because I believe in Allah, that my time has elapsed that is why… Baba is not a mad man like those calling for my sack. They have been sending it and spreading that if Baba sees this I will be sacked."
Subscribe for latest Videos